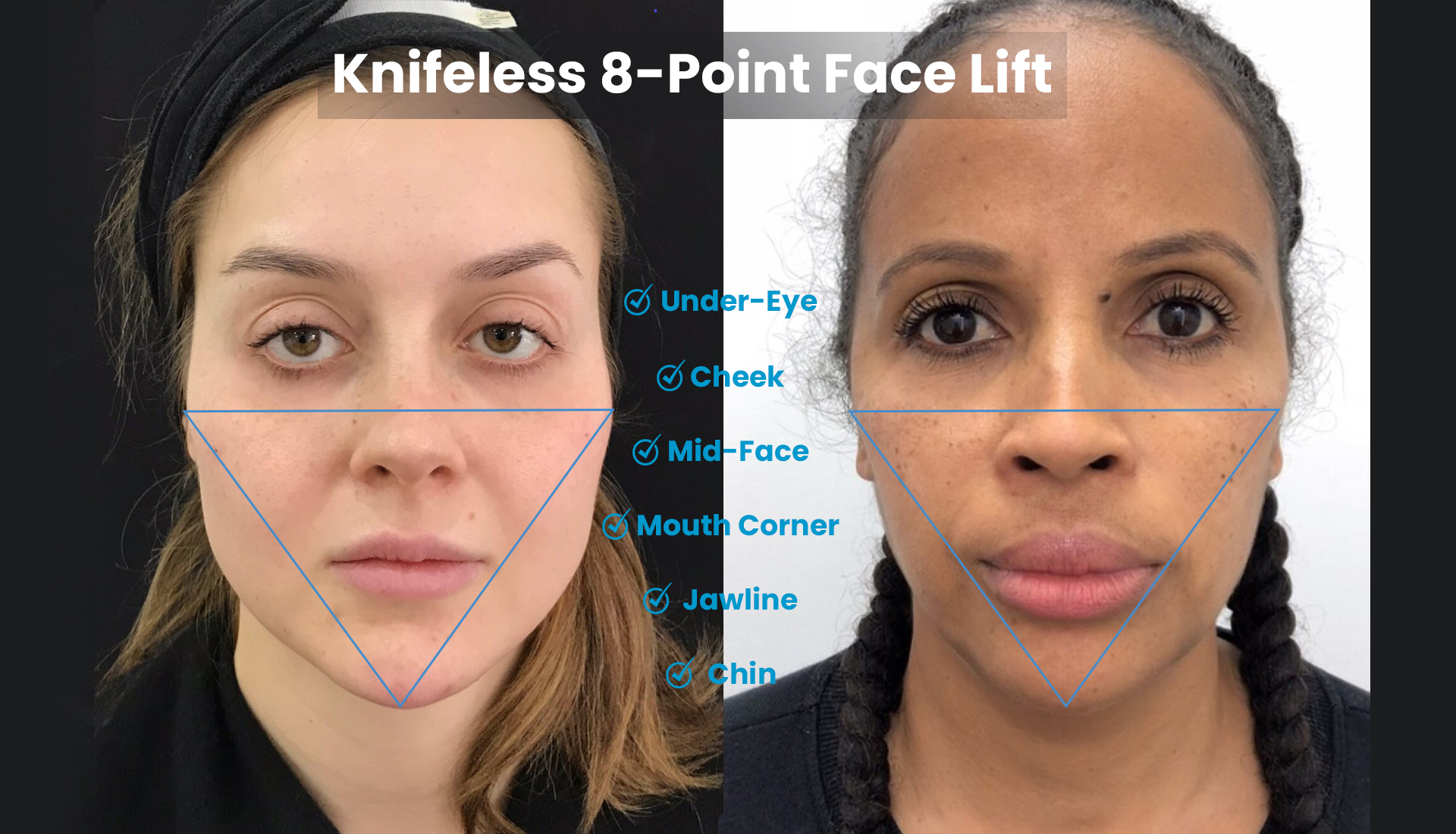 8 Point Face Lift — The Needle Taking Years Off Your Face!
Have you heard of anyone getting a facelift in their 30's? No? Well, it is actually called a non-surgical face lift or 'liquid facelift' that is getting an overwhelming response worldwide. Today, instead of going under a knife, men and women are loving 8 Point Face Lift and are not ready to go back! Read on to find out why?
The Ageing Clock Waits For No One
Yes! Ageing itself causes no harm, in fact, it is a completely natural process that everyone has to witness. However, no one looks forward to experiencing the ageing signs that make one look older, less virile and impacts their self-image.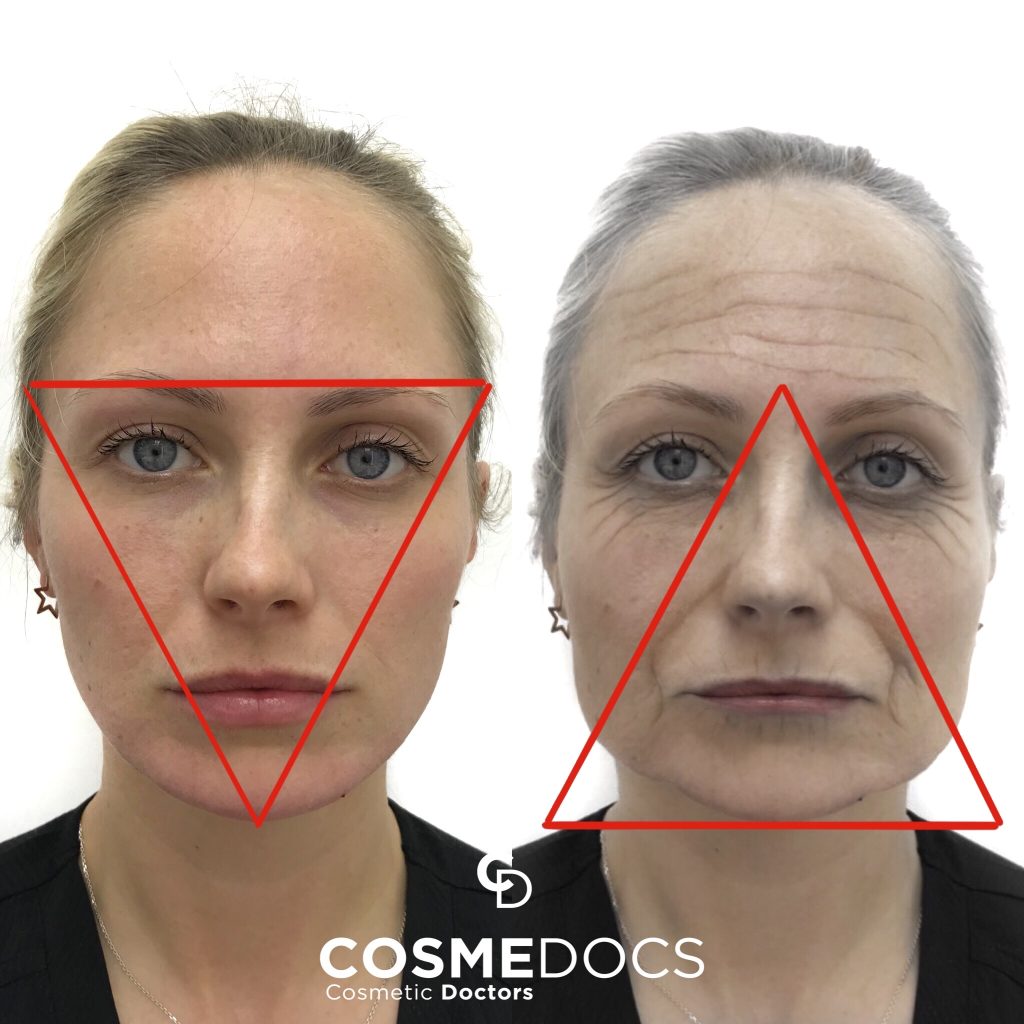 Do not believe them! Anyone who tells you that you do not have to worry over an ageing face or skin, probably does not know how your body actually works!
Experts today, are decoding the mystery of skin ageing and continue to make major breakthroughs in Aesthetic Medicine.
Hence, it is now possible to address and even reverse some of the major cosmetic ageing concerns, while ensuring an effective and precise facial  rejuvenation.
Director of the Cosmetic Surgery and Skin Health Centre and assistant professor of Dermatology at the University of Pittsburgh, Suzan Obagi explains in an article published in the Scientific American
"Around 1% less collagen is produced in the skin every passing year after the age of 20. Therefore, your skin gets thinner, less resilient and more fragile. Moreover, your oil producing glands slow down as well, hence, resulting in the onset of wrinkles."
So, is it the beginning of the end?
Do you have to sit back and watch your ageing signs affecting your appearance and self-esteem?
Not necessarily! 
Introducing A Knifeless & Targeted Facial Rejuvenation 
Designed by Mauricio de Maio, a well-known Brazilian plastic surgeon, the 8 Point Face Lift is changing the face of aesthetic medicine and plastic surgery as we know it.
What Is An 8 Point Face Lift?
An 8 Point Face Lift is a non-surgical procedure that adds volume, structure and gives lift to certain facial features using dermal fillers. This is made possible by using the most advanced injection techniques to strategically place the  facial fillers in areas of concern such as:
Hollowing under eye areas

Deepening nasolabial Folds 

Deflated cheekbones

Loss of volume in the midface 

Weak chin

Drooping sad mouth corners 

Heavy jowling

Poorly defined jawline
Hyaluronic Acid — The Star Of The Show!
This water attracting substance is naturally found in your body and is responsible for keeping your skin plump, hydrated and wrinkle-free. However, as ageing takes a toll, not only does your body slow down its collagen and elastin synthesis but hyaluronic acid levels drop too.
But no worries! All this can be addressed with a 'Liquid Hyaluronic Acid Makeover'!
Non-Surgical Face Lift In Action
Even though an 8 point face lift involves enhancing and lifting your 8 strategic facial points, they are exclusively customised to your specific needs. Take a look at our lovely patient who desired 'Total Rejuvenation Effect' without a knife or scalpel in question.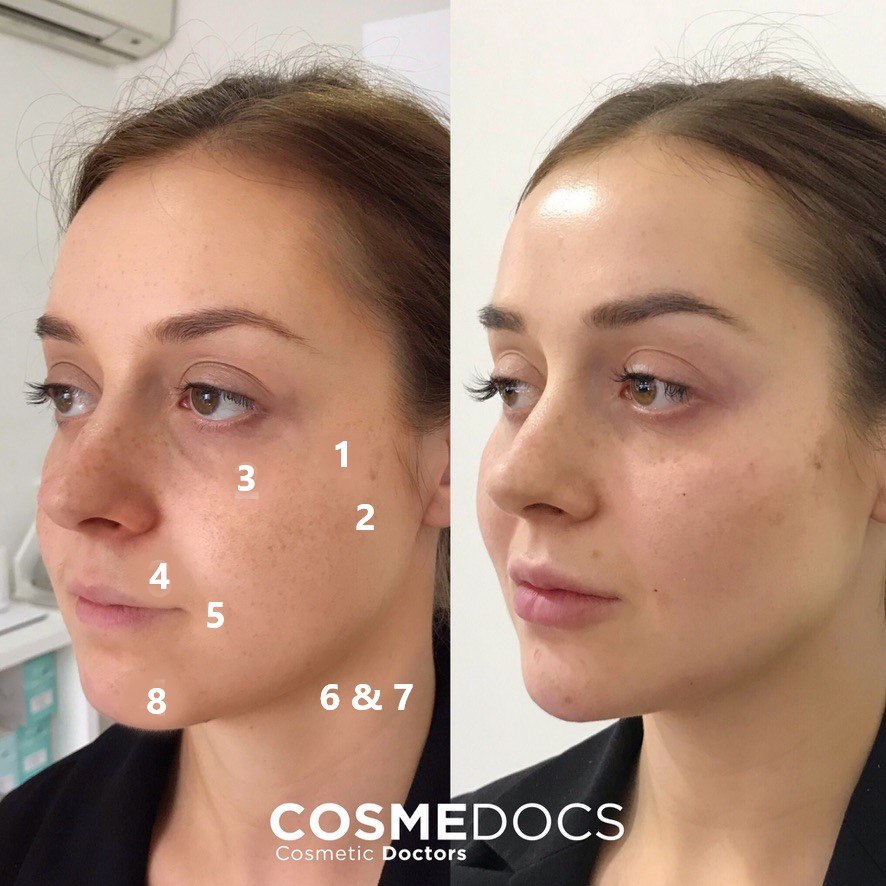 Experts at CosmeDocs have artistically contoured, lifted and sculpted her mid-face as well as her lower face. Now, she looks not only youthful but also makes us wonder if she has shed a few pounds too! No?
Defines & Volumizes deflating Cheeks
Lifts for more angular, high Cheekbones
Rejuvenates tired looking, ageing Eyes
Smooths & Lifts deep Nasolabial folds
Lifts & Softens droopy Mouth Corners
Corrects & Reduces the look of Jowls 
Sculpts & Pronounces Jawline in men & women
Transforms a weak, recessive Chin on young & ageing faces
By injecting small amounts of hyaluronic acid-based dermal fillers into the precise points of the face, the experts achieve a more lifted, renewed, yet natural look under 60 minutes! Secondly, this advanced anti-ageing lift is also totally bespoke, and is not based on a 'cookie cutter approach'.
This means that if you desire high cheekbones in addition to restoring facial volume, you can enjoy them depending on your facial profile analysis.
What To Expect From A 'Liquid Facelift'?
Not a miracle of course! But surely a visible, natural and aesthetically pleasing transformation. For instance, patients at CosmeDocs who undergo the 8 point face lift have reported that:
They look less tired to others and get more compliments

Their 'non-surgical face lift' is quite subtle and refreshing which has boosted their confidence.

Wrinkles and fine lines have visibly softened to the point where they look their own age.

They enjoy a more defined and chiselled facial frame with reduced jowling and bone loss.

Younger patients especially enjoy more angular and pronounced facial features without any surgery.
Choosing Non-Surgical Face Lift Over A Surgery?
Not everyone is quite ready for an all-out surgery. They all may have their own personal reasons but the one excuse which by the way is no excuse at all is 'risks and complications' of a surgical facelift.
Secondly, many people are simply not cut out to spend thousands over a procedure that may or may not turn out to be what they had expected. Or, even worse, if they do not like themselves anymore! 
The 'Plastic Stigma'
If you are among those who prefer to look naturally refreshed, youthful sans dramatically and drastically different, the 8 point face lift may be a great choice. Moreover, many patients do not like to look 'fake' or 'plastic' which is in fact one of the signs of a 'botched plastic surgery'.
Just because it is 'knifeless' does not mean that you cannot expect 'quality results'.
At CosmeDocs we only use dermal fillers with a safety profile such as Teosyal (Ultra Deep) to deliver exceptional results in addition to Juvederm®.
The main goal is to achieve visible rejuvenation and your satisfaction in the end.
Take a look at our 8 Point Face Lift Before And After transformation. It is only 'Needle Work'!
Bonuses & Benefits Of A Liquid Facelift
If you are one of those people who do not like the way they look in the mirror anymore or would like to slightly 'tweak & transform' their profile, an 8-point face lift may be just for you. 
Keep on reading why this doctor's favourite aesthetic procedure is making rounds on social media.
No Scalpel, Scissors Or Stitches…Just Sublime Results
Hyaluronic acid based dermal fillers can correct and enhance just about anything of your face.
From improving the faintest look of a wrinkle to giving you an appreciably prominent chin and jawline, without any surgical implants or jawline trimming.
All you need for this 'Fluid Face Lift' is an expert aesthetic hand, the right type of filler for your specific concern and your realistic expectations. Voila!…
You Can Still Look & Feel Like Yourself…But Better!
Surgeries are permanent but may not look necessarily natural and subtle. This very reason makes them quite undesirable among many patients. Moreover, instead of looking like they had some 'work done' on their faces, our younger audience prefers to get a 'touch up' instead.
Hence, making this 8-Point Face Lift a go-to procedure for our conservative fellas!
8-Point Face Lift Visibly Reverses Ageing Signs
As mentioned earlier, ageing itself is a natural phenomenon that happens to every human on this planet. It is in fact the unwanted indications of skin ageing that we humans simply do not look forward to! 
Skin sagging, wrinkles, facial volume loss, skin laxity and collagen loss are some of the manifestations of an ageing skin. But wait! There are multiple ways to fight off your concerns and 8-point face lift is just one of them. 
CosmeDocs patients get visible results under 60 minutes, minimal discomfort and virtually no disruption in your routine. You only go back to your life looking great and feeling even greater!
From Tired Looking To A Terrific You
Whether you blame it on your age or genes, under eye dark circles, wrinkles and hollows make you look gloomy and tired. Moreover, many men and women patients complain of droopy sad mouth corners that bring down their entire personality.
Well, the great news for you is that at CosmeDocs, an HA makeover with dermal fillers is just what you need to look instantly refreshed, awake and alert. 
So why buy those fancy eye creams and do pointless facial exercises then?
A 'Preventative Facelift' For Younger Audience
So when is the right time to get a face lift? The most frequently asked question by our old and new patients. The answer to this is even simpler. Only when you think that the time has finally come.
However, with our non-surgical face lift, you can surely sign up for a 'preventative measure', especially if you are in your late 30's to 40's. You can add volume to your deflating midface or receding chin and jawline without fearing a 'fake look'!
Real 8 Point Face Lift Before And After Results
Take a look at this stunning 50 years old 8 Point Face Lift transformation at CosmeDocs.
She was facing major ageing signs such as eye wrinkles, deflated cheeks, deepening nasolabial folds and overall facial volume loss.
Experts at CosmeDocs, just within minutes took years off her face using a needle instead of a knife!
Just 1 More Reason To Consider Liquid Facelift
Why spend thousands on a risky surgical facelift when you can get a 'liquid facelift' for the fraction of the total cost of going under a knife?
Without breaking your bank and you into tears, this non-surgical face lift is also quite easy on your pocket, with a guarantee of naturally remarkable results.
At CosmeDocs, the 8 Point Face Lift Price UK starts from £650 and can vary from person to person. Secondly, there are certain factors that you may affect the cost, such as:
The amount of dermal filler used for your procedure

Your aesthetic goals as well as expectations from the procedure

The type of filler used for the 8 point face lift depending on the area of concern
Is An 8 Point Face Lift Worth A Shot?
Moreover, the 8 Point Face Lift cost UK makes this procedure the most preferred one even among younger patients in their 30's who may not be a good fit for a surgery.
CosmeDocs Has Got You Covered…And
Lifted!
The trend of a knifeless facial rejuvenation may be free of major downtime and a scalpel but not from certain unwanted risks such as an 'overfilled syndrome'.
But luckily, this too can be easily avoided if you pick the right place and right doctor for the job.
Experts at CosmeDocs have a great deal of experience in carrying out this sophisticated procedure safely and efficiently. An utmost care, calculation and caution is ensured together with an 'Aesthetic Eye' by our practitioners to achieve a harmonised facial profile.
So, whether you are planning on a 'Preventative Facelift' or not ready for a full blown surgical makeover, you should keep the 8 Point Face Lift on your cards. Book a detailed consultation with us and let us help you look your great at any age!