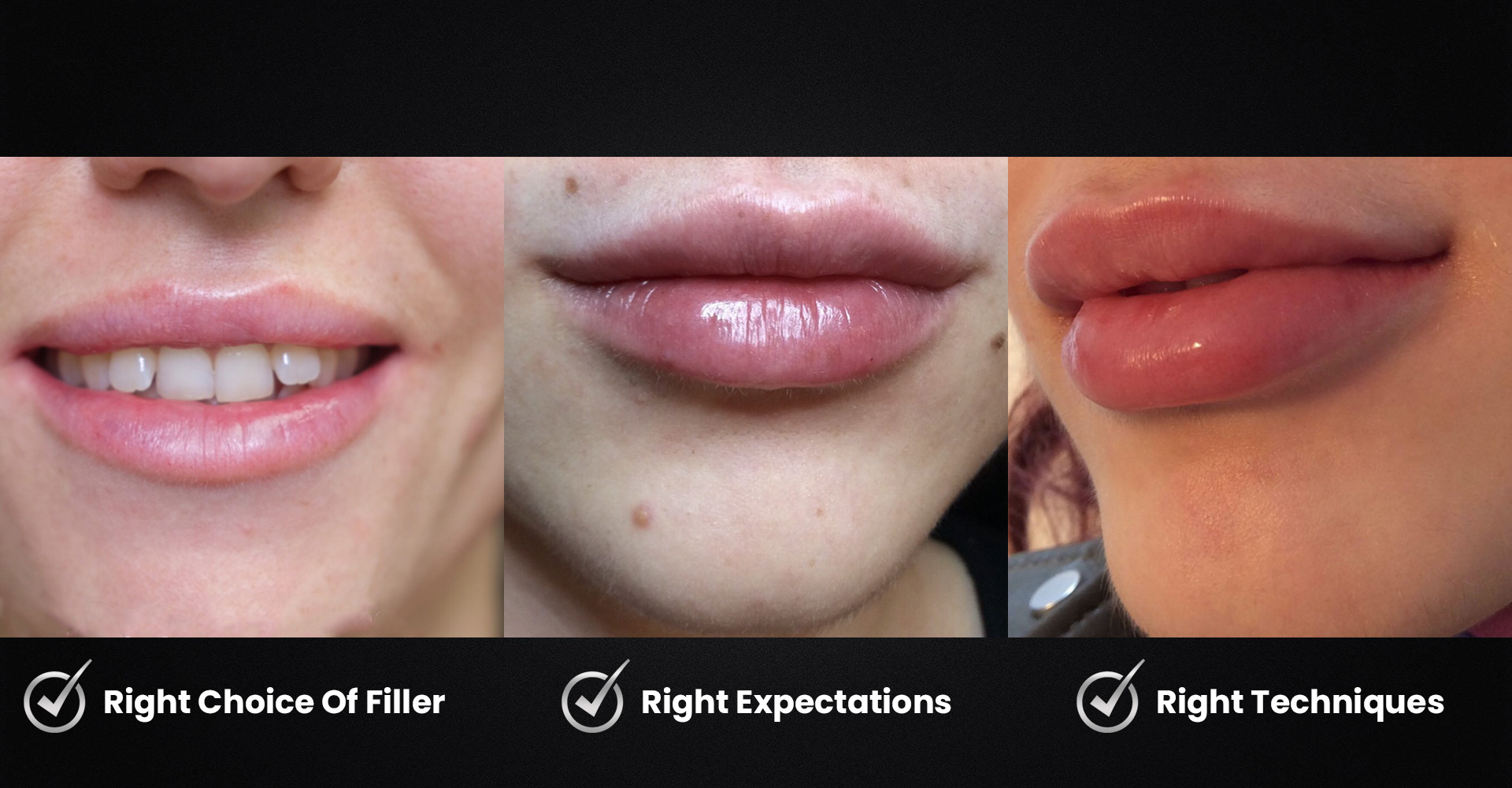 Natural Lip Fillers — The Art Of Looking Yourself, But Better!
Do you know the very intent of a makeup kit? It is actually meant to help women enhance their own facial features without making them look like someone else! Natural lip fillers serve the same purpose as that of a red lipstick. So why is it easy for lip fillers to go horribly wrong and what can you do to get an enviously luscious but natural pout…Every time? Read on!
The Unflinching Obsession With Lips
According to Bustle, a lipstick is thought to have been first created by ancient Sumerian men and women, who painted their lips and eyes with a mixture of crushed precious stones and white lead. 
So, is the obsession with luscious and attractive lips over yet?
Nope! And we do not see it going away anytime soon either. Check out our blog on what your obsession with celebrities is doing to your looks. 
Quiz Time!
Would you prefer to have a free of cost lip filler giving you a pout of your favourite celebrity? Or would you rather pay for natural lip fillers that transform your own look…effortlessly?
(Hint: There is no one like you on this planet)
The 'Instagram Face' Made Me Do It
Ever since Kylie has got a 'lip job' done, it is safe to say that we the age of the 'Instagram Face' has begun.
Unrealistic beauty trends including fuller looking (sometimes inflated lips) has become a beauty standard today.
So, how popular are lip fillers in the United Kingdom? Brace yourselves dear readers!
According to whatclinic.com, Google searches for lip fillers have surged ten times since 2012 in the UK, and lip augmentation has emerged as the most popular non-surgical cosmetic procedure of 2016!
So, let us understand lip fillers and how they rejuvenate your entire look…effortlessly.
What Are Lip Fillers?
Lip fillers are in fact dermal fillers containing Hyaluronic Acid gel that are meant to define, reshape, plump up and hydrate your pout. Moreover, only an aesthetic expert with a great deal of experience as well as an artistic eye must perform it.
This 'Liquid Lip Rejuvenation' treatment is a completely non-surgical out-patient procedure that wraps up in minutes with no major downtime. All you take away with you is a visibly plumped up pout and self-confidence!
What Do Natural Lip Fillers Look Like?
In just 2 words? 'Pure Perfection'! Well, even though there is no such thing as perfection in this world, Cosmexperts do agree that anything 'Natural' is near to perfection. 
The same can be said for natural lip fillers.
Here are a few ways to tell that your 'Liquid Lip Job' has gone quite well and you still look like you just…better and sexier!
So, how to spot a naturally plumped up pout? Read on to find out!
Your Lips Fit Your Features…

Perfectly
You were not just born with a pair of lips, were you? You also have to consider the size of your eyes, your nose, and even your cheeks while getting a lip plumping treatment.
Hence, natural lip fillers make sure that your new lips are in harmony with your entire facial profile. Moreover, a good doctor ensures that during your consultation.
The Pout Looks Discreetly Hydrated & Fuller
Oh sweet mother nature! She has her own mysterious ways of letting you and others know that you need hydration! Dear readers, if your lips are chafing and peeling, chances are that you are quite dehydrated from inside.
However, at CosmeDocs, many male and female patients flock in complaining of dry, lifeless lips even with good water intake. Nevertheless, with a shot of natural lip filler, they leave with a pair of good looking pout in just minutes.
People Cannot Tell If You Have

Them!
Ah the joy! Especially when you get a compliment from someone who can't really put a finger on it. That is when you know that you got natural looking lip fillers. 
By using a 'Tweak & Tailor' method, the lip filler is carefully injected into certain areas of your lips to correct, conceal and create your lips but better pout. 
You Feel Confident In Flaunting Your New Pout
You know what is the second best feeling after seeing yourself looking amazing in the mirror? It is the feeling you get after getting praises and positive attention from others about your new and better self!
Clients at CosmeDocs report that their confidence level skyrockets upon getting compliments from their friends and family. Moreover, many of our male patients also believe that looking sharp at work helps them get through some times.
The human psyche of 'attraction'.
Here Is How You Get A 'Lip Filler Gone Wrong'!
It can happen and it usually happens to those who make an uninformed decision when it comes to lip fillers. Sure, the internet is flooded with amazing lip transformations and celebs and influencers talking very highly of such 'tweakments'. 
However, very few people talk about how to look 'natural' and 'yourself' with such trendy procedures. As a result, you end up fantasizing a bigger, bolder pout with no regard to your actual aesthetic needs.
So what really happens in a botched lip job?
You are smitten by Social Media Syndrome

Expecting too high from lip fillers

Choosing a bad injector

Inappropriate choice of fillers for lips rejuvenation
Do Lip Fillers Dissolve Naturally?
In case you are not too happy with your new pout and want the effect to go away on its own, you can wait for the fillers to undergo a gradual breakdown. Always go for hyaluronic acid based dermal fillers that are naturally metabolised by your body in a few months.
Finally, is there any way to ensure a natural lip job?
Keep on reading!
3 Surefire Ways To Get Natural Lip Fillers
One of the most common queries of our patients is can a lip filler look natural? Is it possible to avoid a trout pout or a sausage-shaped pucker?
Our response? Absolutely!
There are tons of horror stories about how a botched lip job left a woman helpless and hopeless. But it is equally important to know that the majority of the time, it is the patient who lies at the bottom of the mess.
What to do?
Realistic & Right Expectations 
The main idea behind using a hyaluronic acid based lip filler is to 'fill the spaces'. To achieve natural looking lip fillers, you must know how dermal fillers work for your lips.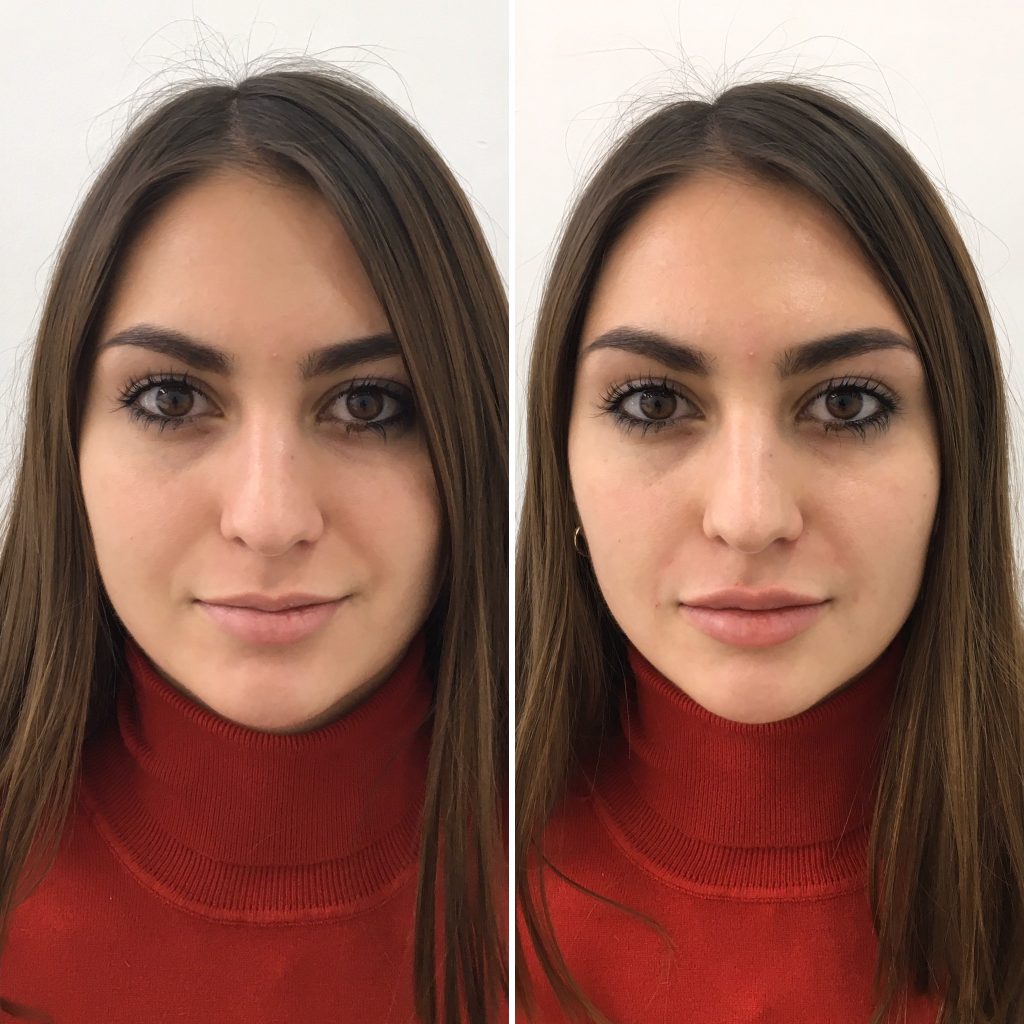 For instance, natural lip fillers can:
Define the natural lip shape

Enhance your lips' natural white and red areas

Smooth out any upper lip wrinkles

Give a subtle plump and volume to your thinning lips 

Correct any unsightly asymmetries

Always work in harmony with your other facial features 
Right Person For The Right Job
In order to achieve all of the above mentioned features of a natural lip filler, you also need to look for an artist who knows his or her craft.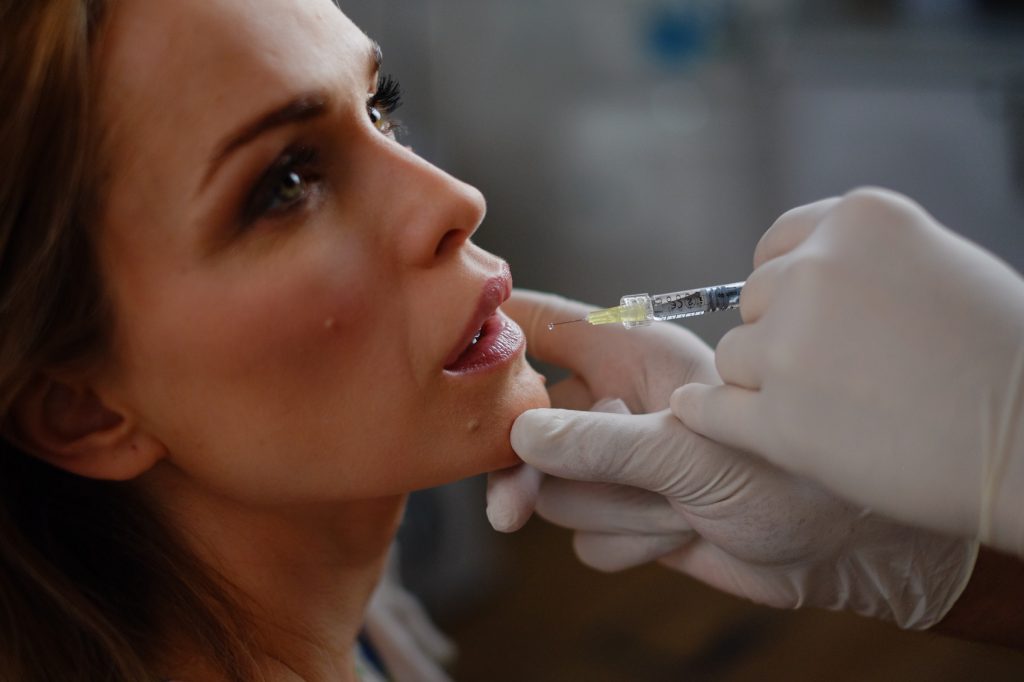 By an artist, we truly mean a medically trained aesthetic practitioner who is well-versed in facial anatomy, thoroughly experienced and has an eye for aesthetics.
CosmeDocs has a team of expert injectors who always encourage a natural look and with their conservative approach and master injection skills, deliver uncanny yet sexy results. 
Right Choice Of Lip Fillers
We do not use just any dermal fillers for your lips. Aesthetic medicine is always making breakthroughs to bring high quality cosmetic products for targeted rejuvenation.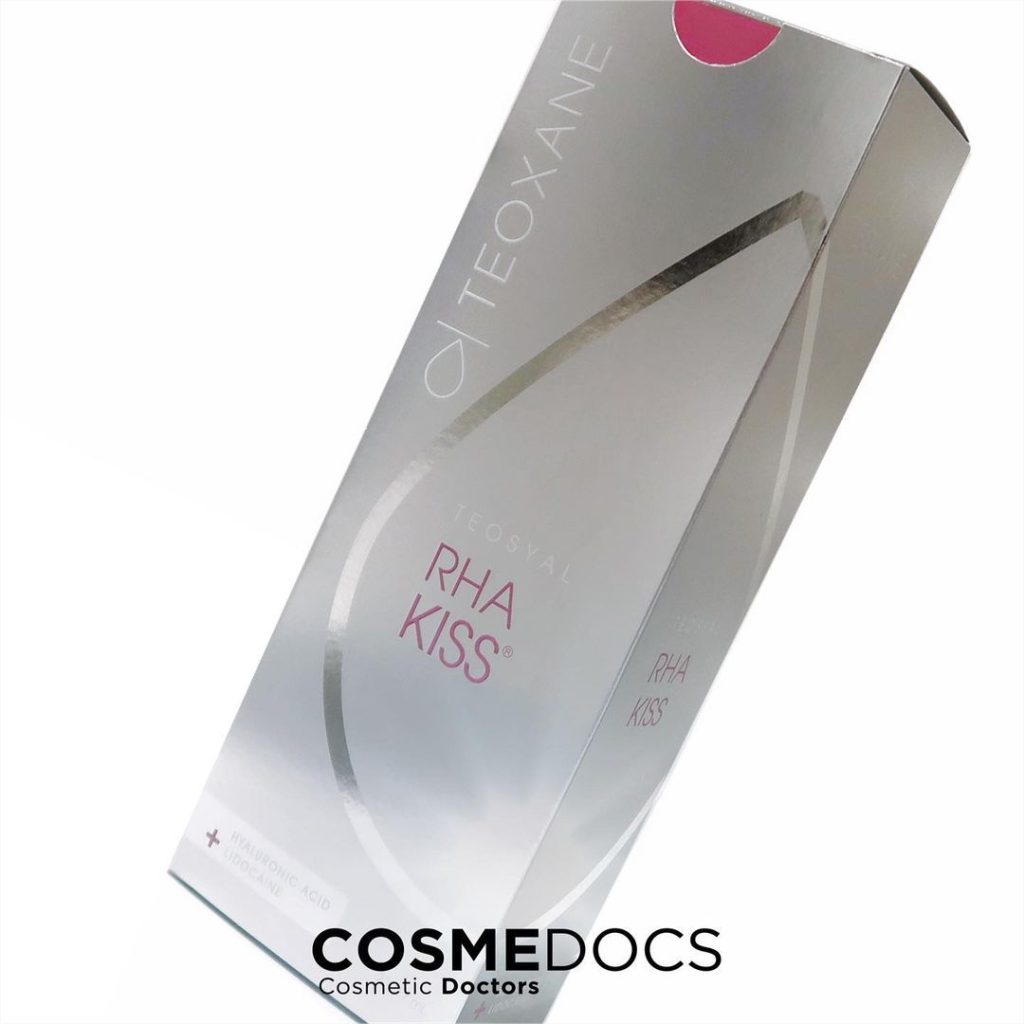 While dermal fillers are quite versatile, some are specifically designed for impressive lip enhancement.
By using Teoxane's RHA Kiss, even spreadability and volume can be ensured when injected directly into your lips.
There is simply no unnatural feel of firmness nor any over-filled look following the treatment.
An expert not only knows about it but must also anticipate the results before you can even see them!
Celebs With Natural Lip Fillers Before And After
Forget the Jenners and Kardashians, we can name some A-list celebs who prefer to look like themselves…but better! They have some tweakments going on, so subtle, we wonder if there is anything in there at all!
Real Natural Lip Fillers Before And After Results
Dear readers, having natural lip fillers is not some fantasy, neither is it something that only a few people like. In fact, more and more clients request for a pout that is enhanced ever so slightly. 
Most of these beautiful pouts have been 'tweaked' using less than 1 ml of lip fillers!
Social Media = 0
Real World = 1
Natural Lip Filler For Men Before And After
Why are natural lip fillers becoming a cult favourite among doctors and patients alike? Well, it works just too well for men. Our handsome young patient wanted a bit of everything and well, we gave it to him!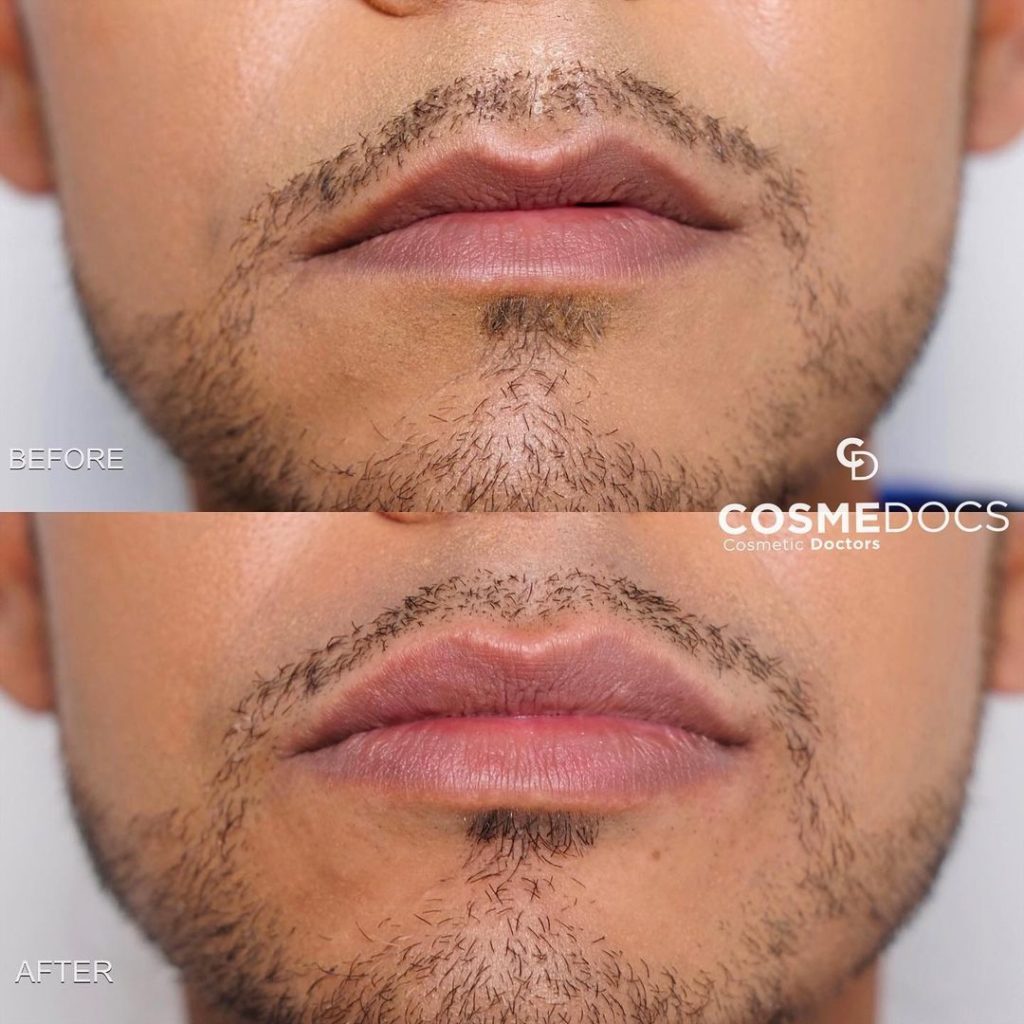 Natural Lip Flip With Botox Lip Lift!
Not ready for a lip filler yet? Try an incredibly undetectable lip flip! Botox injections are carefully and strategically injected into your Orbicularis Oris muscle.
Upon treating this muscle, which is found on the sides of the top and lower lip, the muscles are able to relax. This is because Botox inhibits the nerve signals and prevents them from affecting the muscle.
Hence, giving your upper lip a slight outward projection that tends to last for months! Secondly, you can also opt to get a Botox lip flip in combination with Natural Lip Fillers London.
Sweet!
Natural Lip Flip Before And After Results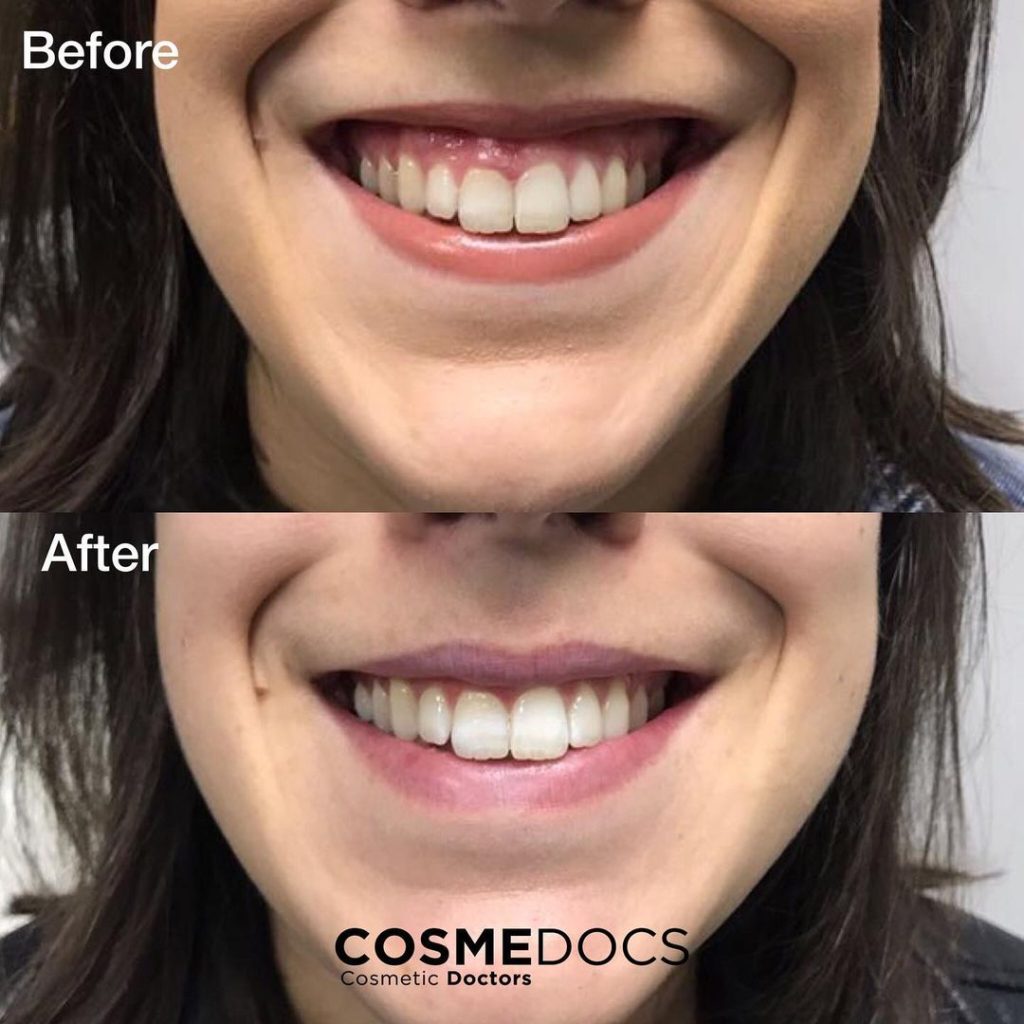 At CosmeDocs — Your Lips Secret Is Between You & Us
Whether it is a red lipstick, water or lip fillers, less is always more! Going overboard with anything can backfire and sometimes the results can be overwhelming.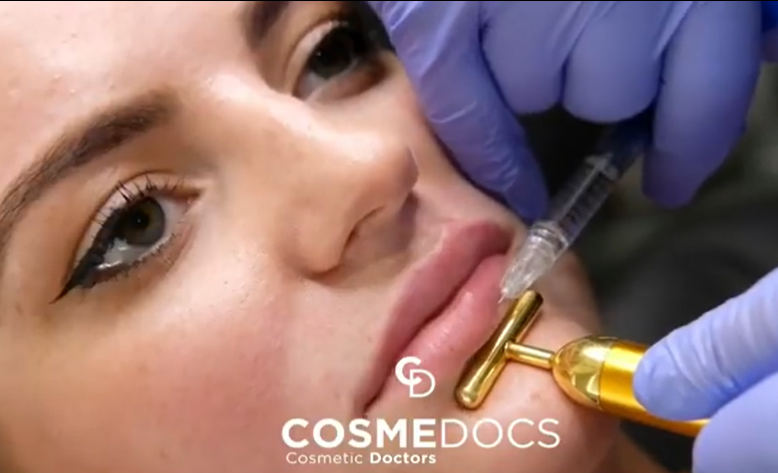 Experts at CosmeDocs hold this belief firmly and always push for a subtle and 'retouching approach'.
We ensure that once you pick us for natural lip fillers, you not only enjoy your 'original self' in the mirror but are also educated on this serious 'over-filled syndrome'.
Remember, creating a fake, unnatural look needs no effort, but achieving a subtly enhanced and elevated profile requires experience, understanding and an 'aesthetic eye'.
Your Lips; Irresistibly Plumper, Incredibly You!