Dermal Fillers
You But Restored, Refreshed & Rejuvenated
Jawline Results

Immediate | 9 – 18 months

Risk & Complications

Swelling, Bruises and Infection (rare)
What are Dermal Fillers (Face Fillers)?
Dermal fillers, also known as face fillers, are soft injectable gels containing hyaluronic acid. Face fillers improve:
Wrinkles
Folds
Sunken facial appearance by restoring volume.
Our skin naturally contains hyaluronic acid – a strong humectant that attracts water. Therefore, many popular dermal fillers (Restylane®, Juvederm® and Teosyal®) contain Hyaluronic acid. Dermal fillers are also used for enhancing facial features
Indications for Face Fillers?
Dermal fillers maybe used for anti-ageing (wrinkles and folds), enhance and define facial features.
Our Approach To Cosmetic Filler Treatments
Plastic surgeons have creative and artistic abilities. They must have a 'double vision.
They must clearly identify the areas of volume loss and visualize results before dermal fillers treatment.
Hence, "Aesthetic procedures of this nature require an artistic sense."
How Long Do Dermal Fillers Last?
The effects of soft tissue fillers last between 9-12 months. However, this usually depends on the thickness of the dermal filler used.
Lip fillers last between 6-12 months as the gels are softer to ensure a natural feel and appearance.
Cheeks and jawline fillers are more tough gels that may last up to two years. 
Face Fillers Treatment Areas
Nasolabial (mouth) Folds
Nasolabial folds are laugh lines that run from your nose to the corners of your mouths. As your cheeks droop downward and the nasolabial fold deepens as you age, these appear more noticeable.
Dermal fillers injected into the nasolabial fold soften the look of the fold and lift the laugh lines. Different procedures, such as using a needle or a cannula, are used to inject face fillers.
Your doctor at Cosmedocs decides the most suitable technique to improve your laugh lines to produce desirable results.
Lip Enhancement
The lips lose volume from the age of 18 onwards. Also, your lips may need a 'natural plump' and 'hydrated effect' with time.
Moreover, people may also begin to see 'upper lip wrinkles' or smoker's lip lines as they age.
Hyaluronic acid based dermal fillers are a good solution to achieve beautiful, fuller looking lips.
Lip fillers are also popular because they provide long lasting results without posing any major risks. Click for more details
Chin
Your face's 'triangle of beauty' ideally includes defined cheekbones, a fine jawline, and a nicely pointed chin.
Dermal fillers enhance cheeks, chin, and jawline and help restore the balance and proportion of your face. Moreover, dermal fillers in these areas last more than a year, sometimes up to two years. More Detail
Cheeks
The cheeks are the most visible feature of the midface. The 3D profile of your face is influenced by the natural volume and projection of your cheeks. Cheek fillers can be used to give a youthful contour to the face and enhance facial proportions. Dermal fillers are used to correct naturally 'flat cheeks' as well as 'deflating cheeks' of an ageing face.
Jawline
Jawline fillers last more than 12 months once the right density material is selected. Dermal fillers come in varying consistency depending on the treatment area and goal. For example, a carefully selected 1ml jawline filler will provide more volume than 1ml lip filler. We use highly cross linked hyaluronic acid dermal fillers that are robust and provide long term results.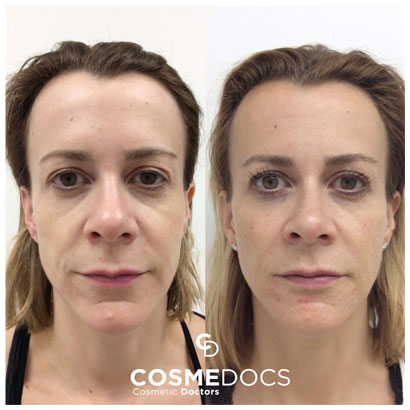 Nose
The nose is one of the most prominent features of the face. It plays a significant role in defining overall facial appearance.
A non-surgical nose job using dermal fillers is ideal for those who wish for an improvement without surgery.
Using very fine needles, we inject face fillers under the nose skin. Only experienced hands can safely perform such a procedure.
Under Eye Circles
The effects of tear trough treatment can be seen in the pictures. There is a clear difference and improvement in the tear trough area after the administration of treatment. There is a marked reduction in dark eye circles before and after the treatment.
Client Reviews
I've had three facial areas treated with Anti-Wrinkle Injection at CosmeDocs in recent years, and find the treatment swift, thorough and effective. Also, Dr Haq's pleasant and friendly manner makes the treatment as painless as possible!"
I had a facial aesthetic treatment with cosmodocs. I found the price very reasonable. Even better the results were excellent. I will definitely use this service again."
Dermal Fillers Pricing
Teosyal (Swiss) From
0.5 ml £225
1.0 ml £300
1.2 ml £375
3.0 ml Face Volume/Mild Jowls £850
6.0 ml Face Volume/Mild Jowls POC
Juvederm / Perlane £350/ml
See prices page (chin, cheeks, jawline, nose, under eyes)
Filler Dissolution
More than one session may be required £250
Combined Approach to Face Fillers
As artists use more than one colour, so does our experts sometime recommend a combination of treatments to achieve desirable cosmetic results.
For example, cheek dermal fillers can improve the nose-mouth folds when the skin is lifted.
Frequently Asked Questions
What are the fifferent types of Dermal fillers?
The most popular fillers in the UK contain Hyaluronic Acid (HA). They are generally preferred because they are:
Safe

It helps to treat a variety of areas

Little to no risks and recovery period

Ease of administration
The various HA fillers differ in concentration, formulation and degree of cross-linkage. Such features affect their duration of action and the amount of swelling after the procedure. 
Most HA fillers now contain lidocaine to reduce pain as well as the need for additional anaesthetic.
Radiesse® is a long lasting filler. It is also popular for particular treatments and also gives great structural support. Moreover, it helps your body to produce new collagen.
How will I look immediately after a Dermal fillers treatment?
The filling effect is apparent after the procedure, and the treated area may be red and tender with some swelling. As there is a risk of bruising, this may start to appear following the procedure. However, bruises will be more obvious in the following days.
What can I do to reduce bruising?
Certain medications and supplements thin the blood making bruising more likely such as:
Aspirin

Vitamin E

St John's wort

Ginkgo

Evening Primrose oil

Garlic

Feverfew 

Ginseng 
Experts at Cosmedocs advise avoiding these at least 2 weeks before your treatment. 
Avoid alcohol and non-steroidal anti-inflammatory medications, such as ibuprofen and diclofenac, at least 2 days before your treatments.

You may take Arnica tablets or gel 2 days prior to treatment and continue it afterwards for 2-3 days.

Ice packs just after the procedure will reduce swelling and constrict blood vessels, reducing any further bruising.

You may also use warm compression after a couple of days if bruising has developed. This method will help to speed up the healing process.

Pineapple and papaya, topical and dietary vitamin C will also help the healing process as it helps build collagen around vessels.

You may also wear light mineral makeup to hide bruising and redness. However, it is not suitable to use makeup right after your treatment.
What are the worst complications of Dermal fillers?
Most dermal filler treatments usually have no side effects or risks. However, there may be initial swelling, redness and soreness that usually goes away on its own in few days. 
In case of bruising, you can expect it to take up to 14 days to heal. Therefore, we advise planning your dermal fillers treatment before an important event.
Uneven Results
An expert doctor will try to avoid any asymmetry during the procedure. Still, an uneven or unwanted result can be corrected using more face fillers.
Bumps or Lumps:
Another rare side effect of face fillers is lumps or bumps. A firm massage during and after the procedure can smooth out their look. 
If you continue to see these bumps, your doctor may use the dissolving enzyme to break down the fillers.
Below is a list of rare but more severe side effects:
Tissue Necrosis
Injected filler can obstruct the blood supply to skin tissue causing ischaemia which can lead to necrosis. It may occur immediately after injection or hours later. Trained injectors are better able to manage such rare side effects.
Granulomas
These are nodules that may appear months or years after treatment, and they are more common with permanent fillers. They arise when the body reacts to the filler material by flushing it out. Corticosteroid injections or excision are usually preferred to treat granulomas.
Infection
As with any cosmetic treatment, there is always a chance of infection. It is possible to reduce the risk by cleaning and disinfecting the treatment area. 
It is also essential to use sterilised equipment for the procedure.
Furthermore, we also advise taking antibiotics as soon as possible to treat the infection.
Scarring 
Although rare, a scar can form if:
There has been any infection

 If a person has a history of hypertrophic or keloidal scarring.
This information will be collected whilst taking a medical history.
Are Dermal fillers more/less painful than Botox?
Dermal filler treatments may be painful for some people. However, the fillers usually contain an anaesthetic that helps to reduce pain.
Secondly, the use of a topical numbing cream can lessen the pain further.
Besides, different face fillers treatments need different injection techniques as well as time. Hence, they slightly take longer than a Botox treatment.
How much is usually injected?
Hyaluronic acid fillers usually come in 0.5 and 1ml syringes. The volume of dermal fillers needed depends upon the area that needs volume.
Radiesse® or Calcium Hydroxylapatite is available in:
These types of fillers give a semi permanent result where there is a need for more structure. 
Will the fillers be lumpy?
After the procedure, the practitioner will massage the area to smooth any visible lumps. You may gently massage the lumps or bumps at home with the tips of your fingers.
Usually, the filler settles down within 2-3 weeks and feels 'normal'. If you continue to see a bump, then you must see your doctor to address the issue.
Could I be allergic to the filler?
It is very rare to be allergic to dermal fillers. An allergic reaction manifests itself as redness, swelling, and itching at the injection site.
You may experience more acute symptoms, such as breathing difficulties, if you have a severe allergic reaction. If this occurs, get medical attention right away.
Anti-histamines and steroids can help to treat such complications and side effects by your doctor.
Can the filler move after it has been injected?
It is essential not to touch, rub or massage the treated area right after your procedure. Moreover, you must also strictly follow the aftercare guidelines to avoid accidents such as 'filler migration'. 
There are a few things that you can do to prevent such an event, such as:
Avoid lying down for 4-6 hours right after your treatment

Do not indulge in heavy exercise or workouts for the first few days.

Keep your head elevated when you sleep at night.
Will I be able to see the filler?
It is very unusual to be able to 'see' the filler. HA fillers are colourless gel and not visible when injected correctly. It may be possible to see the product as a bluish skin discolouration if your doctor injects the filler too close to the skin. This can be managed with compression and sometimes an injection to break some of the product down.
Will my skin/lips feel different afterwards?
Once the swelling subsides, the filler takes 2-3 weeks to settle and feel more like the surrounding skin/lips.
Will other people be able to tell?
Usually, people 'look better' without obvious changes to their looks. Still, good practitioners will help restore and refresh your overall appearance. They will also ensure that the enhancements look natural and do not look fake or 'too much' to others.
How often will I have to have fillers?
Everyone is different, and so the amount and frequency of dermal fillers treatment also vary. Most HA face fillers used last from 6 to 12 months.
Besides, since face fillers also help promote collagen production, you may not need the treatment too often.
However, some people may break down the product faster than others and may need regular maintenance.
Is it okay to have a different filler injected after having a previous treatment with a different brand?
Usually, this is fine if there have been no complications. However, the Dermal Fillers London practitioner will want to know the following:
When was the last treatment carried out?

Which product did your doctor use for the previous treatment?

Why do you desire a different filler?
Ready to begin your journey?