Chin Filler
Projected – From A Weak Chin To A Well Defined Chin!
Anaesthetic

Local / Topical

Chin Filler Results

12+ months

Risk & Complications

Swelling, Bruises &
Infection (rare)

Full Recovery

24-48 Hours
Chin Filler Enhances The Lower Face
Jaw and chin filler is a safe and effective treatment to adjust the facial profile. It is a revolutionary treatment taking a complicated surgery from an operating room to a needle-based office procedure. See below for chin filler before and after pictures that are highly satisfactory for both our client and practitioner!
A weak chin is the genetic underdevelopment of the bony skeleton. Aesthetically, it may impact proportions of facial features:
Consultation & Planning
Our cosmetic doctor will initially assess your chin and jawline in order to recommend a profile strategy. Before starting the treatment, a skin numbing cream or local anaesthetic is applied. The treatment is safe & straightforward to perform with minimal discomfort or downtime.
Chin Filler Vs Chin Implants
Chin augmentation with dermal fillers is temporary but long-lasting. Chin implants were previously very popular, but as the implant is rigid, it becomes evident with:
Ageing
Restricting expression
Movement
Chin enhancement with dermal fillers is the better alternative in our view.
Chin, Cheek & Jawline Enhancement (Hyaluronic Acid Make Over)
The chin and jawline need to be taken into account as one entity. A stronger and more prominent chin can support voluptuous lips; be them natural or via lip fillers.
Chin Filler Before And After
Examples below are our chin filler before and after results. We often combine the chin and jawline filler to achieve balance. The same density dermal filler works for both areas.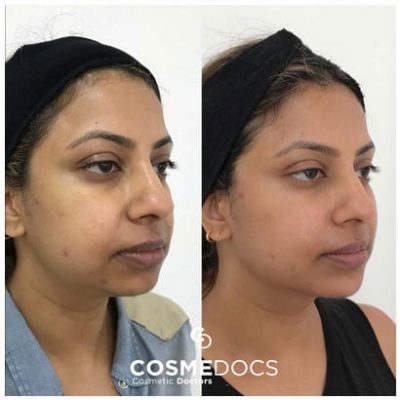 Chin Filler For Round Face Slimming
The face shape plays an essential role in suitability, particularly the filler amount and placement to fit the profile and achieve desired results. The face shape can be adjusted by injecting the cheekbone and jawline areas to form a more natural diamond or heart shape face. Facial profiling is our expertise with jaw and chin filler.
Client Reviews

I've had three facial areas treated with Anti-Wrinkle Injection at CosmeDocs in recent years, and find the treatment swift, thorough and effective. Also, Dr Haq's pleasant and friendly manner makes the treatment as painless as possible!"
I had a facial aesthetic treatment with cosmodocs. I found the price very reasonable. Even better the results were excellent. I will definitely use this service again."
Prices
Hyaluronic Acid
Hyaluronic Acid
2.4 mlHyaluronic Acid
Chin Filler Pricing
Dermal fillers in the chin last longer than fillers in the lips; due to the viscosity (thickness) of material selected. The prices are:
Hyaluronic Acid (1st syringe 1.2ml) From £350
Hyaluronic Acid (2.4 ml) From £650
Hyaluronic Acid (3.6 ml) From £850
Frequently Asked Questions
Chin and Jaw Filler Benefits?
Natural results with improved facial dimensions
Addresses an ageing lower face, undefined jawline as well as recessive chin
Minimal Downtime
Temporary but long-lasting (12-18 Months)
High patient satisfaction
Please see the treatment video below (graphic content warning).  For more information, please do visit our Instagram page.
How Much Chin Filler To Use?
Whether to use 1ml chin filler or more really depends on individual anatomy. We look not only at the bone structure but soft tissue density. Though most individuals are satisfied with 1ml chin and jaw filler. If the side walls of the chin are deficient another 0.5-1ml maybe required.
How Long Does Chin Filler Last?
Dermal fillers in the chin last longer than fillers in the lips; due to the viscosity (thickness) of material selected. Many factors determine the suitability of chin filler including thickness of the skin and underlying tissue layers. Our expert doctors choose the filler best for you.
What is Teosyal or Juvederm Filler?
We use only a specific Swiss or US-made Juvederm filler. These are designed to last 15-18+ months. Advance science of formulating hyaluronic acid provides a natural look. We avoid using permanent dermal fillers at our clinics. Permanent fillers may have longer lasting side effects.
Chin Filler Cost?
Chin augmenation cost is currently at £375 for 1-1.2ml. If you require additional chin filler, we will discount it by £50. Remember, not all need to be used in the chin, and we may suggest using some to define and balance the jawline.
Chin and Jaw Filler Side Effects?
The typical side effects of dermal fillers include swelling, bruising and a low chance of infection. Swelling the chin region is not prominent as it is in the lips. Though the aim is to correct any chin asymmetry, this may not be entirely possible.
Using a cannula, we avoid injuring blood vessels, thereby decreasing complications.
CosmeDocs is a renowned name in the industry of cosmetics. Our clinic located in Harley Street (London) is well equipped and modern practices. CosmeDocs are also well-known trainers to physicians from around the globe.