Your wish to have a more chiseled jawline and youthful appearance has finally come true! As jawline fillers make it possible to get a sculpted look inspired by the gorgeous Bella Hadid. A safe, non surgical, minimal downtime procedure is making heads turn and rising in popularity.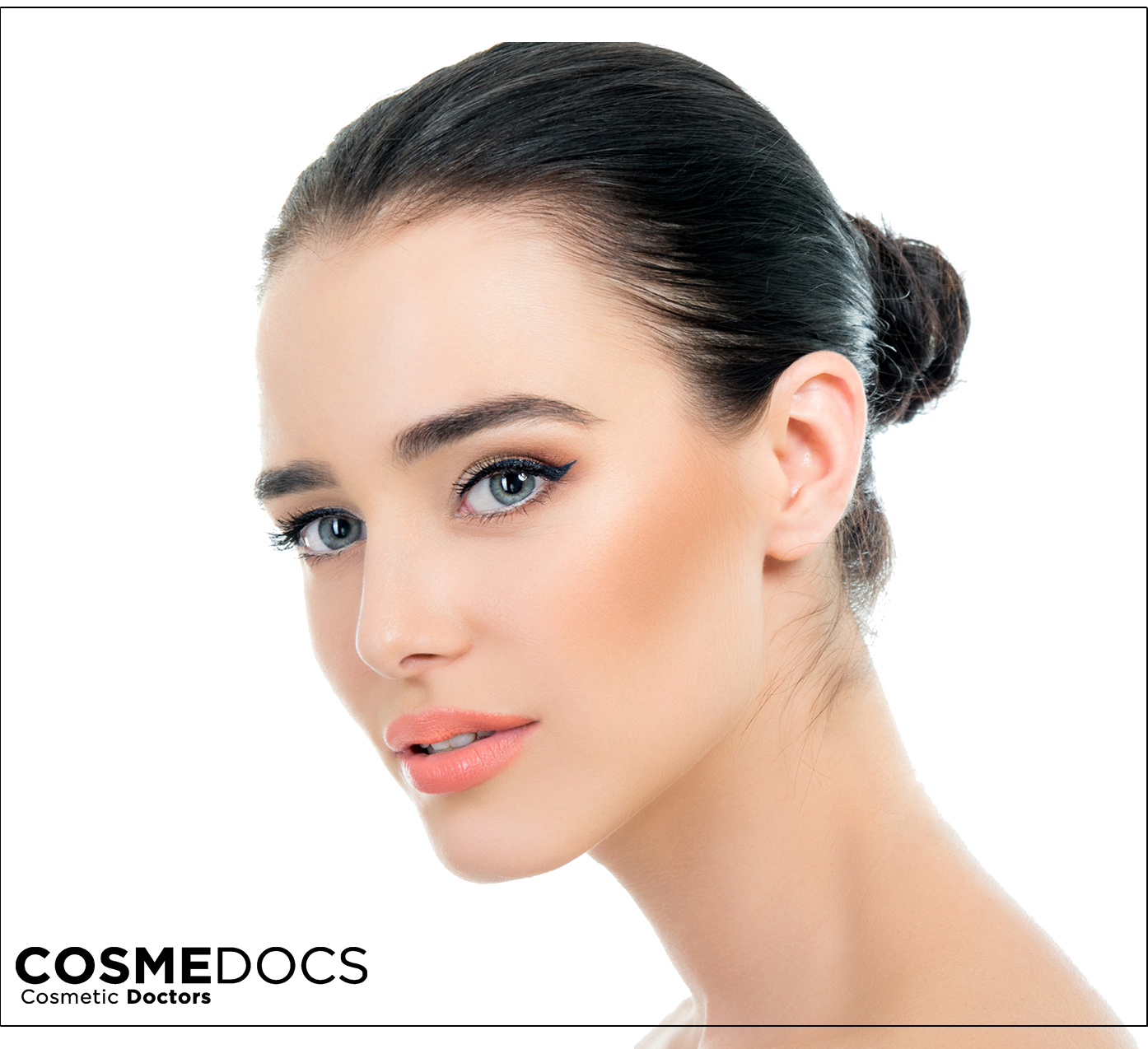 What Is Jawline Contouring? 
Jawline fillers are giving major beauty goals on Instagram, movies, fashion ramps and top fashion magazines. Jawline contouring is an innovative approach to achieve a more sculpted, slimmer and lifted look just by using dermal fillers.
It does not involve any surgery, and with almost no downtime, you achieve a flattering facial profile. Moreover, jaw filler is the most sought after the procedure because it does not entail any major risk or side effects, unlike surgery.
---
A Traditional Jawline Surgery Vs. Jawline Filler 
Jawline Surgery
A Jawline surgery is an invasive approach to reshape your jaw and chin. This method can help achieve multiple objectives such as jaw defining, chin projection, or even reducing the size of the lower jaw. The main goal is to achieve a visually appealing look.  
Jawline Filler
A jawline filler is a relatively new procedure that does not involve any incisions, cutting, or general anesthesia. This quick procedure takes place using dermal fillers to give symmetry, shape, definition and enhance the facial profile. 
Jawline Surgery

 

Jawline Filler

 

Surgical Solution

 

Non Surgical Solution

 

Permanent Results

 

Temporary Results

 

General 

Anaesthesia

 

Local Anaesthesia, (

topical numbing gel)

 

Results can be drastic and may need revision surgery if necessary

 

Results can be controlled and may range from subtle to drastic

 

Involves risks and side effects

 

Does not involve any serious side effects

 

Involves downtime of at least 1-3 weeks 

 

Usually involves minimal to no healing time

 

Costlier than dermal fillers and Botox procedures

 

Affordable alternative to the surgical option

 
Who Can Avail A Jawline Filler?
Jawline filler is ideal for people seeking to enhance his or her lower face or who have lost volume along the jawline or chin with time.
Moreover, a good candidate for jawline filler would be anyone with a strong bone or a weak bone structure and needs definition or a slight enhancement to improve the facial profile.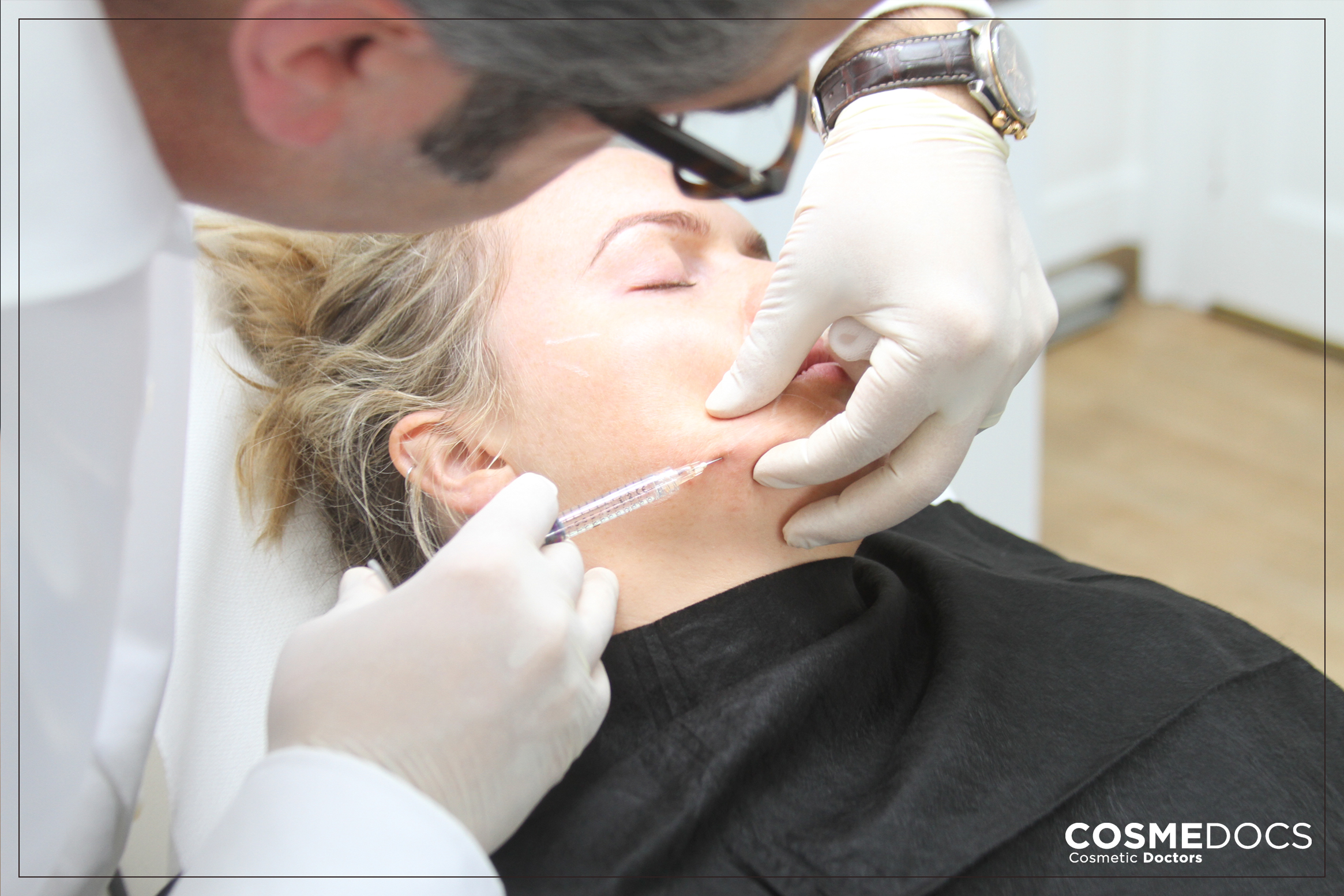 ---
Ideal For Females With Square or Undefined Jawline 
Non surgical jawline contouring can be ideal for women who desire to minimize a square look with a feminine contour.  
Therefore, many women of Asian and even Western ethnicity have been benefitted from this procedure. Moreover, a square jawline in females can be due to genetics, teeth grinding during sleeping or a stressful lifestyle. 
What To Expect In A Jawline Filler Procedure?
Unlike Jawline Surgery, the non surgical jawline filler is quite popular among people of all age groups and gender.  
Men seek jaw fillers to achieve a more pronounced and masculine jawline that also gives them a slimmer appearance
Women, especially with poor jaw bones or even stronger ones, desire to attain a more feminine facial profile.
Moreover, it can also give an appearance of a slimmer face without having ever to hit a gym!
Wondering what does a jaw filler appointment look like? Let's break it down!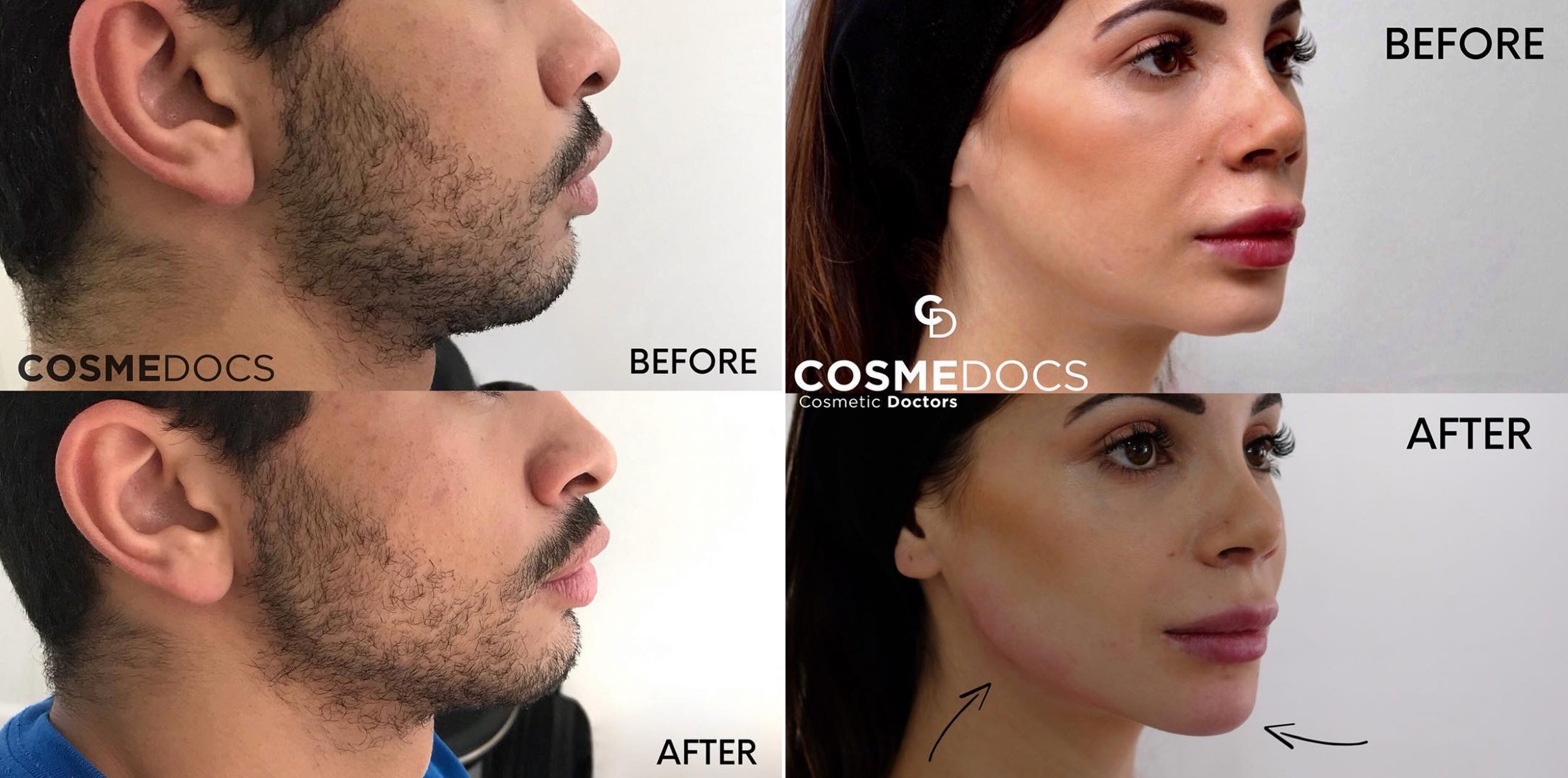 On The Day Of Treatment: 
It would help if you visited your doctor without makeup or any cosmetic on your face. 

The injector numbs the area of treatment using a numbing gel. 

It is also important to select the right kind of dermal filler for your jawline enhancement and technique. The injection technique will depend upon your facial anatomy and desired results. 

A small amount of filler gel is injected strategically in various spots along your jawline. 

The best feature of a jawline filler procedure is that it is easy to monitor the progress and results as it takes place. Therefore, the procedure must take place slowly and steadily. 
Duration: 
A jawline filler treatment lasts about 20-30 minutes in a clinical setting. 
How Much Jawline Filler Do I Need?
It usually varies from person to person according to their facial anatomy. Moreover, women typically require 2-6 ml of dermal filler, whereas 3-8 ml for men. Therefore, jawline filler clients usually require at least 2 ml fillers to achieve desired results.
How Long Is An Appointment?
On average, your jawline filler appointment may only take about 35-45 minutes. This may include the preparation, numbing and administering of the filler.
When Can I See My Results?
While a jawline surgery may take a significant amount of time for healing and then deliver visible results, a jawline filler is quick to show the improvements.
You will notice enhancements after jawline filler almost immediately. Moreover, the full effects after 1-2 weeks and you must follow all aftercare instructions as well.
How Long Does My Jawline Filler Last?
The duration of jawline filler depends upon the amount and the type of filler used. Usually, your filler may last up to 2 years.
On average, jawline filler last from 1 year up to 2 years, after which it will dissolve harmlessly into your body.
9 Key Benefits Of Getting Jawline Fillers
---
Fillers for the chin and jawline can enhance the structure of the lower face. They can make jowls seem less prominent and lift the upper neck.
Moreover, jawline filler has boosted people's confidence in their looks because they get multiple benefits in one syringe! Jawline filler is becoming popular because it is non invasive in nature and can reverse natural volume loss and improve
Quick Procedure In A Clinical Environment 
A jawline filler procedure is relatively quick and can take place conveniently in a clinical environment. Unlike any surgery, dermal filler injections do not take hours to finish, and you are on your toes in 30-40 minutes! 
Little To No Downtime 
It is one of the most sought after cosmetic treatment because it does not involve any incisions, knives or general anaesthesia. Therefore, you can expect to return to work immediately and resume your daily activities without a break! 
However, it is best to follow aftercare instructions such as, 
Avoid heavy workouts for a few days
Limit your sun exposure and wear sunscreen when stepping outdoors
Avoid drinking alcohol and too much caffeine.
It is advised to avoid wearing any kind of makeup for a few days after your procedure
---
Slimming Effect Without The Need of Hitting Any Gym! 
Have you ever heard of facial workout? A jawline filler can give your face the same effect! After the procedure, your face gets definition, and the look of sagging jowls is minimized. Moreover, it seems as though you have shed quite a few pounds! 
Subtle to Dramatic Enhancement 
Surgeries give permanent results, and if you are not satisfied with the results, you may require to undergo another one. Moreover, surgical operations have dramatic effects that you cannot control.  
However, a jaw filler procedure gives you enough control during your treatment. You can monitor the entire process and ask for a subtle, natural enhancement or desire a more sharp and chiselled look.  
Defined And Sculpted Look 
A chubby face looked cute when you were a kid. Well, it does not look attractive as you grow up! People try everything to lose stubborn body fat and to look sharp and youthful. However, their face is the last place to shed that fat. 
Finally! The good news is that jawline fillers can give a look as though you have had been working out all your life. It gives you a sculpted appearance and definition of the lower half of your face. Just what you have always wanted. 
Jawline Fillers Are Totally Reversible 
Are you having second thoughts about the possible results of the jaw filler procedure? Did your results not turn out the way you wanted them to be? 
Reverse them! Dermal fillers can be dissolved when an enzyme hyaluronidase into the skin to reverse the effects. Hence, you do not have to worry about living with any undesirable change for the rest of your life! 
---
No More heavy contouring and strobing 
Remember that heavily contoured look of Kim Kardashian? Some people do not like that, and many others do not want to look muddy with heavy bronzers.
Contouring powders are widely used these days to define and chisel jawlines and project the chin. Now, jawline fillers can deliver the same sculpted effect without using chiselled brushes and strobing liquids!  
How Fillers Work?
The neck and jaw can lose a great deal of definition over time, but small amounts of dermal filler can restore volume. Additional volume can make the skin appear more defined whilst raising the skin and tissue around the neck and jawline, thus, leaving patients with a more youthful appearance.
Why Jawline Fillers Are Preferred?
The jawbone recesses with age. This means surrounding tissues don't have the support that they once did, and this causes sagging and laxity. Moreover, jaw fillers can enhance confidence and make you feel more comfortable about the way that you look.
The treatment can make your faces often appear thinner, with skin looking tighter. Therefore, another great reason for choosing jawline fillers is that they are a valuable alternative to invasive treatments, which can be drastic, expensive, and more dangerous.
The Rise Of Jawline Filler Among Men
Men desire a strong chiseled jawline for a variety of reasons. 
It is an indicator of good health and a fit body
A sharp jawline in men is culturally more appealing
Research has concluded that a strong jawline trait in men is considered attractive by women.
According to the American Society of Plastic Surgeons, at least more than 1.3 million cosmetic procedures were performed on men in 2018.
Moreover, according to Google Trends date, the search on 'jaw fillers men' have also increased since 2004. 
How To Get A Jawline

— Combination Of Fillers And Botox
Do you Botox can be used to relax your jaw muscles and help you achieve a more symmetrical and balanced face? Moreover, a filler can help to replace bone and give a more defined jawline in general. 
Females have been benefitted from this combo more than men. As Botox helps to slim down the masseter muscle, a jaw filler promises to give a more desirable feminine shape to their face. Additionally, a masseter botox also helps to prevent frequent clenching that leads to an enlarged jaw muscles.
Effortless And Quick Results
While surgery may give permanent and dramatic results, some risks and complications are usually linked to any invasive treatment.
Also, you may have to wait for several days or even weeks to be able to enjoy your new jawline and prominent chin.
One of the most popular features of jawline filler treatment is that it can take place in a few minutes.
Furthermore, the treatment may help you achieve subtle results or even a razor sharp jawline. Your call!
---
Jawline Fillers Before and After Photos
Aftercare Of A Jawline Filler Treatment 
Like any other cosmetic treatment, you must also follow the after care guide for your jawline filler treatment. These instructions will help you to manage any minor side effects and sustain your new results.
Follow the following instructions and keep loving the new jawline that you had thought you would never achieve without hitting a gym or a crash diet!
Slight Bruising And Swelling 
To lessen bruising and swelling around injection areas, use ice packs for the first several days. Icing constricts blood vessels, and you can comfort your pain by using it five times a day. 
Headaches and Pains Around Injection Site 
It is quite common to experience discomfort and headache after your procedure. However, you can take Tylenol to ease your pains. 
Lumps or Bumps 
Though rare, lumps and bumps around the treatment area can be a massage with constant pressure for two minutes. You can repeat this 2-3 times a day. 
Expect Realistic Results 
Jawline filler gives visible results and tailored to your desires. However, you may require more treatments to maintain the results and even a combination of other cosmetic procedures to enhance the effects of the jawline filler procedure.  
Avoid Hard Food
You must avoid chewing any hard food such as steaks, nuts, hard candy or chewing gum for first several days after your procedure.
What Are Side Effects And Risks Of A Jawline Filler?
Dermal fillers are usually considered safe to use for multiple treatments. However, some patients might experience a few minor side effects that may go away on their own. 
Your doctor may inform you of the following risks and side effects of the procedure: 
Temporary discomfort 
Swelling 
Redness 
Itching 
Acne  
Bruising 
Tenderness 
Sensitivity 
Rare side effects can include: 
Infection 
Skin nodule formation 
Inflammatory skin reaction 
Skin bumps or lumps 
Beautiful Jawline Is Just A Syringe Away!
Today, jawline fillers are one of the most trending cosmetic treatments and give natural results. It is indeed a wish come true for you if you do not have a naturally strong jawline or if you are tired of a chubby face.
With time, many people notice bone loss around the jaw line. They can effectively benefit from such a jawline enhancement procedure.
Hence, a jawline filler can be an ideal option for men and women who want an attractive, timeless and effortless facial profile. It is time to uplift your personality.
Get In Touch With Cosmedocs!
Are you ready for a non surgical jawline contour? Tired of using bronzers and contouring makeup to define your face?
Then head over to one of the Cosmedocs clinics and seek our experts' help. We would love to know about your aesthetic goals and help you reach them!
Cosmedocs has performed thousands of jawline filler procedures and take pride in receiving consistently positive reviews. So, join the club of our happy clients and get ready to flaunt that enviable chiselled jawline.