People go to great lengths to achieve perfection. The nose, being one of the prominent facial features, demands attention too. A little bit of nose fillers significantly change the way you look! Similarly, Liquid Nose Job is a technique that can subtly enhance your nose. Thus helping you to achieve your aesthetic goals.
What Is A Liquid Nose Job And Why Is It Trending?
A Liquid Nose Job is a common technique which gives shape and enhances your nose's contours, thus improving the nose's external appearance, through injectable fillers. These cosmetic fillers contain Hyaluronic Acid that helps to reshape and correct any unwanted irregularities.
What About The Surgical Nose Job?
Although a traditional rhinoplasty may be the gold standard for nasal modelling, reshaping, and to achieve permanent results. However, this surgical option is not preferred by everyone.
Why? Because it is costly, involves a long recovery period, and there is also a possibility of a botched procedure. Not to mention the anxiety and fear factor that comes along with any surgery.
Liquid Nose Job Is A Better Choice
The good news is that a liquid nose job is an excellent option if you seek quick results, an affordable nose job, and no significant downtime.
This procedure is gaining massive popularity because now you can bypass a painful surgery and regain your lost confidence in front of the world and your cameras! Sounds good?
According to a study conducted by the American Society Of Plastic Surgeons, in 2017, over 215,000 surgical nose jobs were performed.
This is a major 2 per cent decrease from 2016. One of the most important reasons for this decline is Liquid Nose Job's rise due to its safe and non-invasive nature.
Liquid Nose Job Versus Traditional Surgical Nose Job
The differences between a liquid nose job and a traditional surgical nose job are clear and important to consider.
Rhinoplasty is a surgery performed to surgically reshape bone, cartilage, and skin, thus changing the appearance permanently. The ultimate goal of this invasive procedure is to enhance the facial harmony and proportions of the nose.
The traditional nose surgical nose job can effectively treat:
Nasal Asymmetry
A crooked nose
A noticeable bump in the bridge
A wide nose that is not proportional to face
Reduce an enlarged or bulbous, drooping or hooked tip of the nose
Reduce the size of wide nostrils
Breathing problems
Pros Of Surgical Rhinoplasty
Multiple surgeries are possible at the time of the procedure, such as chin enhancement
You can expect permanent and high-quality results
The surgery can address health and structural issues on a deeper level
You can actually expect to reduce the size of your nose
Cons of surgical rhinoplasty
The procedure can be lengthy
General anaesthesia
It carries risks such as bleeding, bruising, nose infection or allergic reactions.
Surgical nose jobs are relatively expensive
The recovery period is relatively long
Revision rhinoplasty may be needed if the results are not satisfactory.
A liquid nose job is used to:
Smooth any prominent or small bumps in the nose
Add volume and shape to the nose
Give an instant nose lift
Correct a crooked nose 
Pros Of Liquid Nose Job
The popular non-surgical nose job takes only about 20 minutes!
It only requires local anaesthesia.
The procedure involves minimal discomfort and bruising
Nose fillers cost relatively less than surgical rhinoplasty.
Dermal fillers can also correct minor issues from previous rhinoplasties or improve the results, such as slight asymmetries.
And the best part is, the results of liquid nose jobs are also reversible.
Cons Of Liquid Nose Job
Dermal fillers can't correct structural and medical issues in-depth, unlike surgical rhinoplasty.
Results of nose fillers are temporary and may require maintenance or touch-ups.
Stunning Nose Fillers Before and After Pictures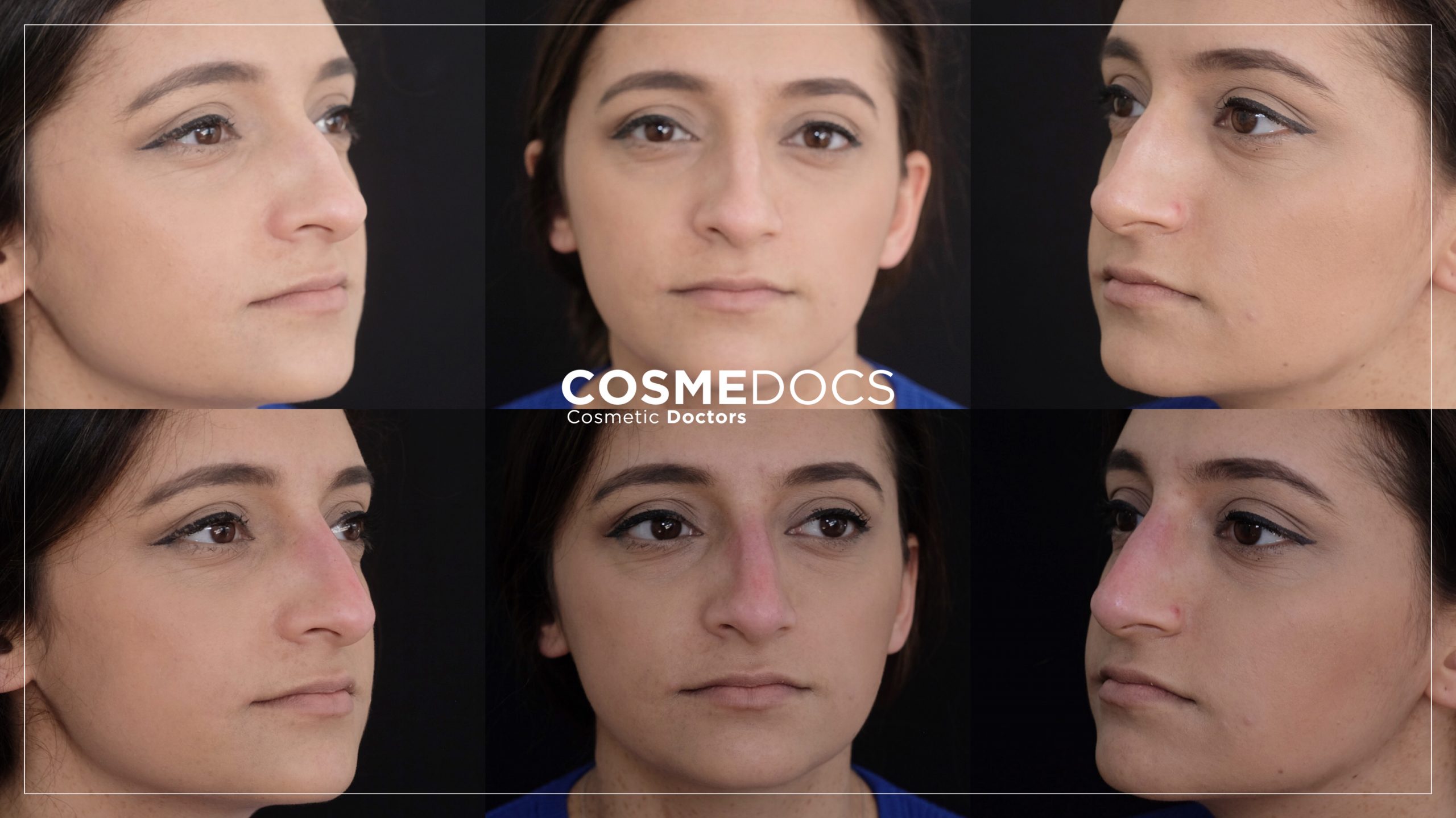 Are These Nose Injections Safe For Me?
It is indeed a sigh of relief that a liquid nose job is performed using only FDA approved dermal fillers. It can be carried out by using local anaesthesia because there is no cutting or bleeding.
Although experts consider this procedure fairly safe, however, there are some risks involved, such as:
Swelling
Bruising
Nausea
Nasal skin damage
Filler migration
Am I a Good Candidate for a Liquid Nose Job?
For those with minor irregularities
Liquid nose job is ideal for you if you are conscious about that prominent bump on the bridge of your nose, or if your crooked nose is killing your confidence.
Liquid rhinoplasty is also a good option for you if you have a droopy tip or flat ridge.
For those who want a cost-effective solution.
If you are on a budget, you need to consider this procedure because it is a comparatively cheaper option!
For those who cannot stand cuts and incisions
Are you not sure about undergoing a painful surgery? Then this kind of rhinoplasty can give you the nose of your dreams.
For those who want to fix their nose job disasters
Nose rhinoplasty can also be a great option for you if you want to fix minor irregularities from a poor nose job in the past. Now that is a true life-saver!
Liquid nose job is not permanent
It is important to remember that, liquid nose job also requires regular maintenance and touch-ups because the results are temporary.
Our board-certified plastic surgeons at Cosmedocs can help you to determine your eligibility for the liquid nose job. Moreover, you can also discuss your expectations, fears and possible outcomes of the procedure.
How Non-surgical Rhinoplasty Works?
A liquid nose job can be performed at COSMEDOCS, where our cosmetic doctors are trainers to hundreds of physicians globally.  
A detailed consultation session is the most important step of this procedure. 
The whole process involves no general anaesthesia.  Dermal fillers are injected using a very fine needle, and they cause minimal pain with no serious side effects.
The clinic helps you to achieve an attractive nose by using safe and best practices. The whole procedure takes place within 20 minutes and you can quickly return to your regular activities immediately!
All of these steps are taken to ensure that your experience is a pleasant one from beginning to end. Doctors at COSMEDOCS will carefully use nose fillers to create a beautiful, smooth and natural shape.
How Quickly Can I Recover From Nose Reshaping Procedure?
One of the best aspects of this non-invasive procedure is its quick recovery period! Although there can be some minor bruising, and swelling around the injections sites. However, the results are delightful. You will see continuous improvements as the swelling settles down.
Nose Fillers Side-Effects
The most common side effect of these nose injections is minor bruising and slight bleeding from the injection sites. You can also be experience stiffness, redness and swelling.
However, ice packs and pain killers can help to alleviate these issues. A rare event of breathing difficulty may occur in case of nose filler gone wrong.
It should not be ignored, and immediate advice from your practitioner is crucial.
9 Top Reasons To Choose Non-Surgical Rhinoplasty (In 2022)
 If you need one last push to get a liquid nose job, then you must consider the following benefits of this 'Talk Of The Town Treatment'
Liquid Nose Job is a relatively quick procedure. It only takes around 20 minutes, and you can achieve optimal results!
Usage of local anaesthesia
This procedure involves no cutting or incisions; hence, topical numbing creams ensure little to no discomfort during the treatment.
Unlike traditional rhinoplasty, the liquid nose job is painless, bloodless and without any serious risks involved!
Can't wait to resume your regular activities? This magical technique is just what you need to have a pretty nose, and you can go about your routine without waiting for ages!
Dermal fillers used by COSMEDOCS are of high-quality, and the results are not only amazing, but they are also sustainable.
Teosyal (Swiss) and Juvederm (USA) fillers are usually used for liquid nose jobs, which last for about 9-12 months.
It is relatively a cheaper option for you because a surgical rhinoplasty costs you more.
Didn't see this one coming! The fillers used are also reversible, so if you don't like your results, you can ask your doctor to dissolve the fillers using hyaluronidase. It is that simple.
An alternative to revision rhinoplasty
If you had a bad experience with your surgical rhinoplasty, then liquid rhinoplasty can be a safe alternative with spectacular outcomes.
If you are willing to take the plunge and want to see how the 'new nose' will turn out, this non-surgical rhinoplasty is a good option.
Your confidence is our command.
Would you like to learn more about how fillers can create the nose you want?
Right Place for the Right Job
Just like any other facial procedure, a liquid nose job also requires great expertise.
Visit Us
COSMEDOCS is proud to spearhead the journey to non-surgical rhinoplasty. Thousands of liquid nose jobs have been performed so far at our clinic because we have an aesthetic eye.
Our commitment is your satisfaction and confidence. If you want to achieve your aesthetic goals with no risks and complications, hence, it is critical to choose the right place for the right job.
Our Cosmedocs are trainers to physicians on nose fillers and present in conferences this procedure world-wide
Explore our website & social media to see what hundreds of clients have allowed us to share. #cosmenose
Frequently Asked Questions (FAQs)
How much is a nose job?
A liquid nose job is much less expensive than traditional surgical rhinoplasty. At COSMEDOCS, our non-surgical nose filler price is currently £450
How long do nose fillers last? 
Results from nose fillers can last between 9 to 12 months, and much depends on the issue being addressed, the type of filler used, and the anatomy of the nose.
Can nose fillers make my nose smaller?
Although a liquid nose job cannot make your nose smaller; however, the strategic placement of fillers can narrow the nose's base. This gives the appearance of a smaller nose.
What are the side effects of liquid rhinoplasty?
This non-invasive procedure comes with a few side- effects. Some of the possible reactions to liquid rhinoplasty are:
Swelling
Filler migration to other areas of your nose
Bruising, especially at the sites of injection
Headaches
Minor redness
Nausea
Make a life-changing decision now and visit COSMEDOCS for the finest experience of the liquid nose job you deserve.
References