Practicing Safe
Aesthetic Medicine
Botox Treatment Injections
For Cosmetic & Medical Indications
Clinic Administered Botox By Cosmetic Doctors | London | Derby | Nottingham
– Prescription Only | Doctor Consultation Required 
Approved by both the FDA(USA) & MHRA (UK), Botox in our London is used for various aesthetic and medical indications ranging from anti-ageing to migraine and bruxism/TMJ treatments. Botox is a highly purified protein derived from the bacteria called Clostridium Botulinum. It blocks the nerves to muscles that cause wrinkles & unnecessary expression as well as sweat glands to decrease excessive sweating. Also, in bruxism it is used to relax powerful enlarged (hypertrophied) jaw muscles to provide pain relief and now is FDA approved for migraines/headaches. Often referred to as a potent toxin in the media it is used in very low doses that are safe when performed by experienced medical practitioners.
As collagen production starts to decrease lines and wrinkles formed due to expression start to become permanent at rest but he mid-late twenties. Botox treatment early will prevent lines and soften deeper preventing them from progressing. We will recommend a treatment plan tailored for you.
CosmeDocs Is A Long Standing London Botox Clinic
Our experience with botox & azzalure is second to none providing thousands of procedures as well as involved in training other physicians in UK & Internationally.
From experience of our busy London botox clinic we have evolved our practice and methods over 13 years. We are constantly developing new concepts and injection techniques; now widely taught via our training academy (Harley Street
Institute).
Experience Matters
Botox will soften the power of the strong expressions as it is injected under the skin into the muscle. Botox doesn't "fix lines" and deep lines present at rest will not disappear as botox is injected under the skin into the muscle. Deep lines at rest may require additional treatment with dermal fillers to replace lost volume.
A multi-dimensional approach needs to be implemented at softening the muscle power and rejuvenating the skin with medical, often prescription based, skin care that stimulates collagen production. A combination approach increasing skin collagen as well as relaxing the muscles results in fewer injectable treatments in the future and a more natural appearance. Our aesthetic doctors are trained uniquely in assessing skin dynamics and recommending the right approach for you.
Botox procedure works well for both men and women though injection patterns vary according to muscle dynamics, age and desired outcome.
Treatment Summary



ANAESTHETIC

Topical




RESULTS

2-3 Weeks |
4-6Months




PROCEDURE TIME

20 Minutes




RISK &
COMPLICATIONS

Allergic Reactions, Bruises,
Swelling, Eyebrow/eyelid
dropping asymmetry




FULL RECOVERY

No Downtime




BACK TO WORK

Immediate
 Botox is the single most common physician administered cosmetic treatment in men
Book Now
Baby Botox / Micro-Tox For Even More Natural Appearance
Baby botox also known as 'Microtox' uses a careful, advanced technique of botox injections using microneedles. Tiny droplets of botox are injected into the dermis and the superficial layer of facial muscles. The botox relaxes the outermost muscles and diffuses into sweat and sebaceous glands. The result gives a natural appearance without an 'over-botoxed' look as fine lines decrease with a weakened superficial muscle layer but without compromising deep muscle movement. There are additional benefits as the texture of the skin can improve with decreased sweat and sebum production reducing skin sheen and the appearance of open pores in the T-zone.
Possible Treatment Areas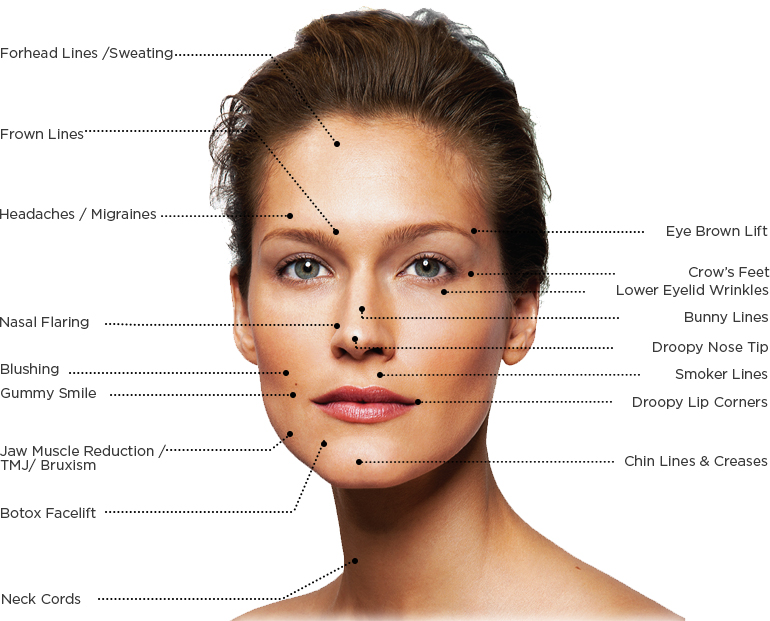 Upper Face Botox
In the upper face the most common areas are the frown complex, forehead and crows feet. These constitute the 3 main areas of the upper face. They are performed to reduce lines wrinkles or even unwanted expression such as a constant surprised or angry look. In females flattening of the eyebrows occur with ageing and a botox injecting technique to lift the corners off the eyebrows can help improve & lift the eyebrows. Natural male eyebrows are flat and it is important in both males & females to prevent compensatory movement giving the tell tale "botoxed" look. This is achieved by careful planning of the injection sites as well as a tweak in two week sometimes.
Mid & Lower Face Botox
Dynamic lines & wrinkles in the lower face are often ignored by clients as well as practitioners. We regularly receive new clients who have had treatment for years elsewhere but never had botox to their chin or side of the jaw muscle pulling the corner of the lips down. This is unfortunate as most individuals with dynamic lines in the upper face also may have excessive movement and expression in the lower. By not treating the lower a disparity between the upper and lower face becomes visible. Botox for the lower face commonly includes treatment of negative expressions such as downturned mouth corners. Other possible indications are:
Nasal Flaring
Droopy Nose Tip On Smiling
Smoker's Lip Lines
Gummy Smile
Droopy Lip Corners
Chin Lines & Dimpling
Jaw Muscle Reduction (For Wide Jaw, Ache, TMD)
Neck Bands & Cords (Turkey Neck)
Decolletage
Botox for Medical Conditions
TMJ Disorder / Jaw Pain
Migraines & Headaches
Facial Asymmetry Correction (Bell's Palsy)
Prices
Botox for Wrinkles
Forehead/Frown/Crow's Feet £175 per area
Combo Price
1 area £175
2 areas £250
3 areas £300
Additional small areas £50
Supplement for men £50
Further Reading from Skin Ed
Testimonials
#Cosmestories
1
I've done Botox with CosMedocs and was impressed with their service and professionalism. Not to mention affordable prices. I was Botox virgin and had my reservations at first, but doctor's advice made them all go away. And I'm really happy with the results." – NC
2
I had a botox treatment with cosmodocs. I found the price very reasonable. Even better the results were excellent. I will definitely use this service again." – BH
3
I am a very satisfied customer of Cosmedocs – I've had three facial areas treated with Anti-Wrinkle Injection at CosmeDocs in recent years, and find the treatment swift, thorough and effective. Also, Dr Haq's pleasant and friendly manner makes the treatment as painless as possible!" – CFSP
-read more testimonials