Lip Fillers & Lip Enhancement
---
If It Makes You Feel Beautiful Then Do It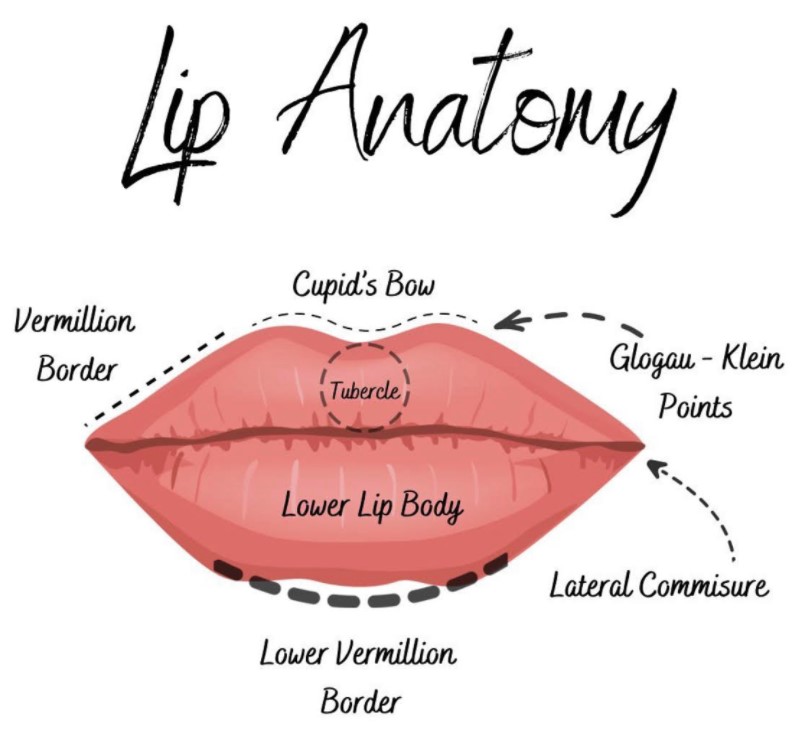 Lip Filler Results

Immediate | 9 – 12 months

Procedure Time

10-25 mins

Risk & Complications

Bruising, Swelling, Infection (rare)

Back To Work

After Treatment
What Are Lip Fillers?
Lip fillers are often associated with volume enhancement only. Yet this is far from the truth. Lips are at their fullest between the ages of 16-18.
Ageing reduces lip fullness gradually. Hyaluronic acid in lip filler injections can hydrate the lips or increase their size while still appearing natural.
Lip fillers enhancement are injectable gels made out of hyaluronic acid (HA). Hyaluronic acid is a natural substance found in the human body. As a hydrating agent, hyaluronic acid attracts water. Hyaluronic acid lip fillers are non-animal-based and are not permanent.
What Can Lip Injections Achieve?
Every lip is different, and the aim of Lip Fillers London can be for achieving:
Beautification (enhancement)
Correction (asymmetries)
Or simply for rehydration
How Much Filler Do You Need?
0.5ml lip filler
0.5ml lip filler London provides a subtle lip augmentation with minimal swelling. The lips appear plumper and well hydrated as opposed to larger.
1ml lip filler
1ml lip filler amounts to approximately 1/5 of a teaspoon. The volume is decent to provide small lips with noticeable size change. Already medium to large lips will appear well hydrated with this amount.
At CosmeDocs the aesthetic doctors use best lip fillers London and adopt a highly aesthetic approach while respecting each patient's unique anatomy.
The ultimate aim is to provide natural results, without any long term damage which arises from aggressive reshaping.
Thin Lip Fillers Before And After
Our experienced and qualified aesthetic doctors advise to gradually increase the volume in thin lips rather than injecting extra volume. Most thin lips are also dense lips and difficult to stretch.
1ml lip filler in a thin lip results in more volume change than other lip types.
Lip Augmentation Swelling Stages
For first-timers, lip swelling is unpredictable so book it in advance of an important event.
The swelling starts immediately after lip fillers and gradually increases during the first 24-72 hours.
The next settling stage takes up to 2 weeks for residual swelling to subside.
During this time, we advise daily massaging of the lips.
More severe complications such as hypersensitivity and infections are rare.
Lip filler aftercare
After your dermal filler treatment, there may be some slight swelling and bruising injection sites but that is temporary.
You can gently apply ice pack to the lip area to alleviate swelling.
Avoid touching or applying any makeup to the treated area for at least 24 hours after the lip filler in London.
As a rule we recommend massaging the lips firmly for 7-14 days after treatment to prevent lumps.
How long do lip fillers last?
Lip fillers can last anywhere between 6-12 months.  However, there are MRI reports of them lasting much longer.  Thicker dermal fillers last longer but may not look natural. Hence, a careful selection of best lip filler London is important. Remember, good cheek/jawline fillers can be bad lip fillers so avoid relying on the left-over product for your lips.
The procedure will take about 20-30 minutes. Once completed, the lips will be massaged well and post-treatment advice will be given.
Client Reviews

I've had three facial areas treated with Anti-Wrinkle Injection at CosmeDocs in recent years, and find the treatment swift, thorough and effective. Also, Dr Haq's pleasant and friendly manner makes the treatment as painless as possible!"
I had a facial aesthetic treatment with cosmodocs. I found the price very reasonable. Even better the results were excellent. I will definitely use this service again."
Lip Fillers Price
Lips (Natural)£300
Lips (Bold & Plump)£350
Lips Re-Contouring£400
Lip Fillers Price
Lips (Natural)£300
Lips (Bold & Plump)£350
Lips Re-Contouring£400
Vermilion border
Cupid bow
Fleshy part of upper and lower lips
Oral commissures
Marionette Lines / Puppet lines
Philtrum ridges
Smoker's lines treatment (upper lip wrinkles)
Frequently Asked Questions
Are lip fillers safe?
Lip filler procedure is completely safe and requires expert injectors. Moreover, the product used at CosmeDocs are made of hyaluronic acid, found naturally in human body. The chances of severe side effects such as blocking arteries is rare and preventable.
Our trusted cosmetic doctors perform hundreds of lip augmentations with a low risk and follow all safety measures.
How to get natural look from lip fillers?
Simply choosing the brand of the dermal filler is not enough. During your in depth consultation at CosmeDocs, you are encouraged to set realistic expectations from your lip filler treatment and try to avoid fantasizing celebrity lips.
As far as actual lip treatment is concerned, we prefer Vivacy, Teosyal and Juvederm fillers with various thickness fillers. 1ml of a thick product will provide more volume but more stiffness than a soft 1ml lip filler from the same company. Natural lip fillers result from choosing the right product for your specific anatomy.
Why avoid the Russian lip filler trend?
At CosmeDocs, we do not inject the border with lip fillers due to possible inflammation, scarring and even tissue death or long term shape change. Trending procedures such as Russian Lip Filler involves injecting the upper and lower lip borders. Our techniques are meticulously time tested for safety and aesthetics.
Do lip fillers change your smile?
Yes, but in a positive way. You can discuss the desired result of how you would like the lips to appear when smiling with your practitioner during your consultation. The lip doctor will examine your facial anatomy before carrying out the procedure.
Lip filler injections can help to fill in thinner or asymmetries smiles. The ultimate goal is to help you look and feel your best and get self confidence when you step out of CosmeDocs.
Who should NOT have dermal filler treatment?
Patients must avoid dermal fillers during pregnancy and breastfeeding. They are also not advised if an infection or irritation is present in the treatment area.
What are post treatment instructions?
Lips may be swollen and tender after the treatment. Moreover, there may be some bruising at injection site but that is very common, and the swelling usually goes away on its own. Some of the most important after care instructions are:
Avoid touching or applying any make up to the treated area for 24 hours after.
You can also gently apply ice to the treated area to minimise swelling or bruising.
We recommend massaging the lips daily for 1-2 weeks, as demonstrated by your doctor.
How qualified are your practitioners?
At CosmeDocs, we are not only a clinic of experienced doctors but also a training center. Our sister company, the Harley Street Institute, trains doctors from around the world in aesthetic medicine.
Moreover, the team of aesthetic practitioners have years of experience in administering anti wrinkle injections and cosmetic injectable treatments.
How long does lip fillers last?
Hyaluronic acid filler treatments will last about 6-12 months. During or after this period, it is possible to have further treatment to maintain or improve the results.
What happens if I do not get subsequent treatments?
As the hyaluronic acid breaks down and absorbs, your lips will return to their previous look.
Do lip fillers hurt?
Make sure to avoid taking any blood thinner, or supplements prior your lip filler procedure. Secondly, at the time of your treatment, a prescription-only topical local anaesthetic /numbing cream is applied to help ease any discomfort. The dermal fillers also contain local anesthetic making the whole treatment relatively tolerable.
Are lip injections permanent?
We do not offer permanent lip filler procedure. We void using permanent dermal fillers at our clinics due to long term safety.
Is a temporary lip treatment better than a permanent one?
Non-permanent dermal fillers enable you to re-contour and add volume again once the effects of your lip filler procedure have worn off. This non-invasive approach also gives desired look and immediate results which are long lasting.
Permanent options, on the other hand, cannot be reversed in case of undesired cosmetic effects.
What is the lip fillers recovery time?
Severe swelling may last between 24-72 hours. Minor bruises are covered up quickly; however, larger ones may require 7-10 days to resolve. Avoid alcohol as well as blood-thinning medications before treatment.
How can lip augmentation look natural?
Lip filler treatment conducted by expert practitioners gives natural results. It can contour lips, provide them with natural shape as well as add volume and hydration.
Smoking after lip filler treatment?
Yes, you may smoke after the treatment once the numbness settles. The frequent contraction of your lips during smoking might shorten the duration of the effects of dermal fillers and botox.
Can lip fillers be reversed?
During your consultation with one of our aesthetic experts, you can discuss your entire treatment plan including pre and post treatment care as well as what to expect.
In case you are unhappy with your lip fillers outcomes, you can reverse them easily.
Hyaluronidase can dissolve hyaluronic acid-based fillers. Permanent fillers require surgery for removal.
What is a lip flip?
The lip flip is a quick, non-invasive lip enhancing procedure using Botox. A few units of Botox are injected into your orbicularis oris muscle, which is located on the sides of the upper and lower lip.
Hence, your upper lip gets a slight outward projection, giving an illusion of a pouty lips without the need of filling them with dermal fillers.
What is the lip fillers cost?
1ml lip filler is from £300. 1.5ml lip fillers are £425, and we rarely perform 2ml lip filler (£550). The price of lip injections varies with the type of dermal filler.
CosmeDocs is a renowned name in the industry of cosmetics. Our clinic located in Harley Street (London), well equipped and modern practices. CosmeDocs are also well-known trainers to physicians from around the globe.