Excessive Sweating (Hyperhidrosis Treatment)
Improving Confidence & Daily Life Quality
Hyperhidrosis treatment (excessive sweating)
Botox hyperhidrosis treatment is an ideal option for people suffering from excessive sweating. Overactive sweat glands cause the disorder of Hyperhidrosis. Excessive sweating is not only harmful, but it can also be socially embarrassing.
Studies show that 1-3% of the population are seeking hyperhidrosis treatment. Hyperhidrosis may either affect small areas of skin or the whole body. Over the counter, deodorants combat normal sweating but are not entirely effective. Botox for excessive sweating can target specific areas prone to sweat profusely.
Who Sweats More? Men or Women?
Hyperhidrosis Treatment Summary



ANAESTHETIC

Local




RESULTS | DURATION

1-2 Weeks | 4-6 Months




PROCEDURE TIME

15-20 Minutes




RISK & COMPLICATIONSS

Rare: Allergic reactions




FULL RECOVERY

No Downtime




BACK TO WORK

Immediate
What is classified as excess sweating?
Sweat is the body's temperature control method. In hyperhidrosis, the sweat is not reducing the body's temperature as a response to heat only. The triggers can be mild anxiety; such as occurs when giving a presentation or meeting new people.  Shaking hands is usually avoided for those who suffer palmer excessive sweating.
What causes excessive sweating?
Hyperhidrosis occurs due to a physiological reason.  The nerves supplying a particular region(s) of the the skin are hyperactive, hence the name. Hyperhidrosis treatment involves arresting the nerve signal before reaching the sweat gland(s).
The sympathetic nervous system that controls the body's automatic processes is responsible. These nerves exist throughout the body regulating heart rate, blood flow and sweat production.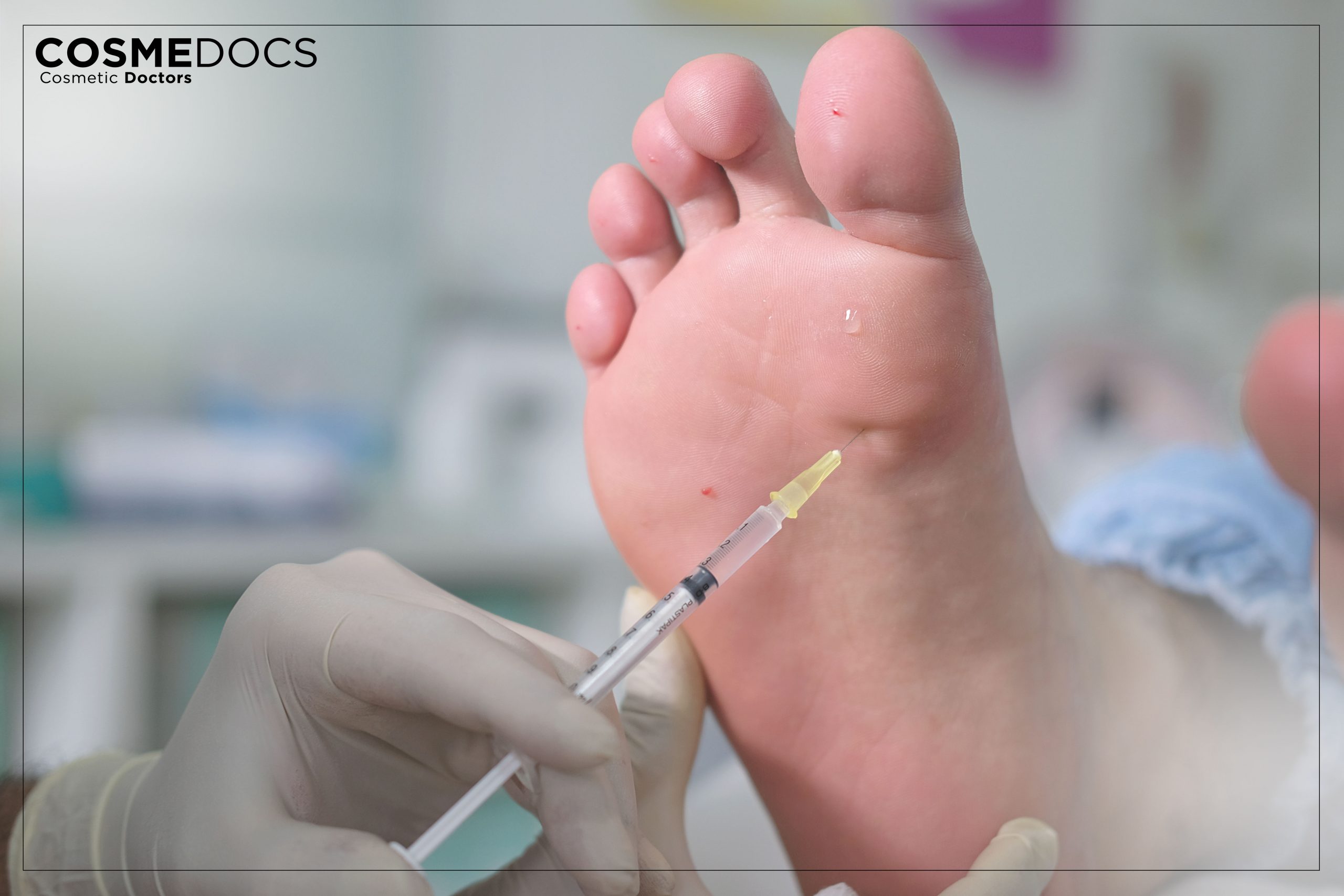 Hyperhidrosis treatment with botox
This treatment is the same as that for facial blushing. The treatment is similar to the one used for facial blushing. Therefore, this method is effective in treating facial and neck blushing. Moreover, Compensatory sweating, gustatory sweating can also be treated with botox (see botulinum toxin below)
After treatment can you have excess sweating elsewhere?
Hyperhidrosis treatment with botox blocks the nerve supplying the sweat gland. Hence, blocking overactive nerve also decreases excess sweating. However, the ETS surgery for hyperhidrosis may result in a similar complication.
Possible hyperhidrosis treatment areas
CosmeDocs is one of the first clinics in London that uses Botox for the treatment of excessive sweating. We treat complex facial areas, underarms, palms as well as feet. 
Moreover, a medical study suggests the usage of high dose have long-lasting results against excessive sweating. Therefore, we use an appropriate dose of Botox for the treatment.
We are a member of the International Society for Hyperhidrosis.
Hyperhidrosis Disease Severity Scale (HDSS)
This is a point scale that set specific benchmarks to rate the seriousness of a patient's condition. Moreover, it evaluates how much excessive sweating is interfering with the patient's daily working routine and activities.
| Hyperhidrosis Disease Severity Scale (HDSS) | Score |
| --- | --- |
| My sweating is never noticeable and never interferes with my daily activities. | 1 |
| My sweating is tolerable but sometimes interferes with my daily activities. | 2 |
| My sweating is barely tolerable and frequently interferes with my daily activities. | 3 |
| My sweating is intolerable and always interferes with my daily activities. | 4 |
Generally, there are two different types of excessive sweating.
1- Focal or Primary Hyperhidrosis
The cause of excessive sweat is not an underlying medical condition. Instead, it is idiopathic (spontaneous occurrence), which equally affects both sides of the body. It involves specific areas of the body that sweat more than usual such as:
Underarms
Face
Palms of hands
Feet sole
Reasons of Focal Hyperhidrosis
Primary Idiopathic Hyperhidrosis
Gustatory Sweating [Frey's Syndrome]
Certain Neurologic Issues [Neuropathies and Spinal Injury]
2- Generalized or secondary hyperhidrosis
The cause of excessive sweating is the underlying medical conditions or its side effects. It affects the complete body instead of some specific body areas.
Reasons of Generalized Hyperhidrosis
Cardiovascular Disorders [Shock, Heart Failure]
Toxicity [Alcoholism, Substance Abuse]
Malignant Disease [Hodgkin's Disease, Myeloprofilerative Disorders]
Neurologic [Cerebrovascular Accident, Parkinson's Disease, Spinal Cord Injury]
Endocrine [Acromegaly, Carcinoid Syndrome, Diabetes Mellitus, Hyperthryoidism, Hyperpituitarism, Menopause, Pheochromocytoma, and Pregnancy] Infection
Respiratory Failure
Drugs [Fluoxetine, Venlafaxine, Doxepin]
Over-the-Counter DeodorantThere is a very clear difference between a deodorant and an antiperspirant. Deodorant blocks the bacterial growth in the underarms, while the antiperspirant caps sweat glands to keep your armpits dry.Deodorant is probably the most common solution for excessive sweating, in addition to no proven health risk to over-the-counter antiperspirant.
Strong Roll-OnA night roll-on is another popular choice for those with excessive sweating under the arms. While this can certainly do the trick, the effect of roll-on doesn't last very long and can also irritate the skin.Moreover, a roll-on may also contain irritating ingredients. Popular brands include perspirex and driclor.
Iontophoresis Iontophoresis is not only difficult to pronounce, but it is also equally challenging to treat. It is the excessive sweating in the hands and feet.This process involves sending a very mild electrical current through the surface of your skin. You may also need to place the hands or feet in a shallow pan of water before transmitting the current through the water.
Oral Medication (Glycopyrrolate)Glycopyrrolate is a medication that sometimes proves to be quite effective against excessive sweating. This drug also treats abdominal pains and peptic ulcers. This medication can indeed have some uncomfortable side effects, including anxiety, dry mouth and headaches.
Botulinum Toxin (Botox / Azzalure / Dysport) Did you know that botox can combat excessive sweating? Botox is a nerve blocker; it can also block the signals to the sweat gland. The effect usually lasts 4-7 months. Moreover, many complicated areas such as facial sweating are also treatable. We have experience in treating the whole scalp, palms as well as feet. In London, we have been performing treatments with botox since 2007.


An ideal option to treat excessive sweating

Botox injections are quite safe and cause minimal discomfort. However, there can be some pain, headache and rare flu-like symptoms. Other side effects of botox are depend on the injection site.

For palmar hyperhidrosis, muscle weakness in the hand is quite common. This results in awkward buttoning your shirt movement for a few weeks. However, this doesn't prevent repeating the treatment.

In facial sweating treatment, smile asymmetry can occur. Moreover, the underarms, don't have any small muscles so they are not adversely affected.

Endoscopic Thoracic Sympathectomy (ETS) ETS is a minimally invasive procedure to treat excessive sweating. But this procedure involves many side effects, thus, making it undesirable. Some of the side effects of the procedure are as follows:

Dry facial skin
Decreased heart rate
Compensatory sweating

The author of a popular sweat blog (Yes, there is such a thing) refers to ETS as"the biggest mistake of my life". He also states that compensatory sweating is now a common issue that needs treatment.

In case you might be asking yourself, ETS involves giving the patient a series of tiny injections to stop the sympathetic chain that causes excessive nerve activity.

Neurolinguistic Programming (NLP)NLP is a novel approach to treat excessive sweating. Though physiological reasons can cause this sweating, increased anxiety can add to the problem. Moreover, it can worsen any issue that you may be having with hyperhidrosis.
Therefore, a combination of NLP and hypnotherapy can reduce anxiety levels causing excessive sweating. Patients can benefit greatly from 2-3 NLP sessions with long lasting results.
The benefits of botox excessive sweating treatment
The non-surgical hyperhidrosis treatment has multiple benefits such as:
Small and limited incisions
Low pain level
Speedy recovery time
Fast and quick return to the daily routine activities
The side effects of excessive sweating treatments
Hyperhidrosis treatment with botox can cause:
Bruising
Flu-like symptoms can occur
Temporary muscle weakness may occur in areas such as the palms
Allergic reactions to Botox are very rare
Hyperhidrosis treatment for face and underarms are well-tolerated. We make use of very fine needles called the invisible needle. The injections are a superficial and quick time of treatment ensures discomfort is minimum.
We calculate the dose of botox according to the size of the treatment areas. On the average 100-150 units of botox is used for the underarms. Our long standing experience helps our practitioners deliver better results with higher doses carefully injected in the right skin layer.
Botox hyperhidrosis treatment injections are generally injected at a distance of 1-2cm apart covering the entire effected area. So the number of injections mainly depends upon the area of treatment.
The sweat glands are located between the dermis and the layer of subcutaneous fat i.e. between the skin and underlying layer of fats. Low dose injections, superficially placed, have minimal effect on the muscles in the underarms. In the forehead wrinkles will become softer. Excessive sweating treatment of the palms may result in slight weakness of the thumb for a few weeks.
It is a relatively safe treatment for excessive sweating. There can be small bruises and swelling in the treated area which vanish within few days. You might also feel muscle weakness around the injected area but these symptoms also go away in a week or two and do not affect the normal daily routine life.
As mentioned earlier, there is minimal pain and discomfort after the treatment. there might be minor swelling and bruising in the treated area but will disappear in few days.
Botox hyperhidrosis treatment for excessive sweating may last 4-6 months. Many clients do report longer lasting results upto 1 year.
The price of botox hyperhidrosis treatment varies according to the area.
Excessive sweating treatment with botox for males and females is the same price.
Prices
Botox for Excess Sweating
Underarms £500
Forehead From £350
Palms £500
Scalp From £500
Feet £450
Other areas Price on Consultation
Further Reading from Skin Ed
Testimonials
#Cosmestories
2
I had a botox treatment with cosmodocs. I found the price very reasonable. Even better the results were excellent. I will definitely use this service again." – BH
3
I am a very satisfied customer of Cosmedocs – I've had three facial areas treated with Anti-Wrinkle Injection at CosmeDocs in recent years, and find the treatment swift, thorough and effective. Also, Dr Haq's pleasant and friendly manner makes the treatment as painless as possible!" – CFSP
-read more testimonials