Cheek Fillers
For Visibly Lifted & Defined Cheeks & Cheekbones
Anaesthetic

Local / Topical

Cheek Filler Results

Immediate, Lasting
12+ months

Procedure Time

20-30 mins

Risk & Complications

Bruising, Swelling,
Infection (rare)
Defined Cheeks Are Universally Attractive
A beautiful and attractive facial profile is considered incomplete without visibly sculpted cheeks or high cheekbones.
According to a study, the presence of prominent mid face area or defined cheeks signals sexual maturity for males and females.
Therefore, sculpted cheeks or high cheekbones are clear signs of youth and sexual appeal around the world and one of the essential beauty standards in different cultures.
How Ageing Affects Your Face Structure?
One of the most important face areas that show noticeable ageing signs is the mid face.
As the ageing process kicks in, the skin, bone and soft tissues undergo major changes. Moreover, the ligaments become loose, and fat pads of the face become thinner and shift, as a result:
Cheeks start to look flat or sag
Jowls are created along the jawline
Droopy jawline and neck skin
Nasolabial folds (Smile Lines) become prominent
What Are Cheek Fillers?
Cheek filler is one of the most in demand non surgical cheek enhancement or cheek lift treatments.
It involves injecting hyaluronic acid based dermal fillers into the patient's midface areas to add volume and give definition and lift to the cheeks.
Lunchtime Rejuvenation?
Cheek fillers take no longer than 30 minutes with no lengthy downtime. Only the latest injection techniques and the best fillers for cheeks are used for the patient's satisfaction.
A Trending 'Liquid Facelift'
This 'next generation facelift' adds volume to the sunken cheek area while subtly improving the under eye area, ageing smile lines and lifting the lower face.
Many young patients also get high cheekbones, cheek fillers and apple cheek fillers to achieve natural angles and soft curves for their cheeks.
Benefits Of Cheek Fillers
More defined and plumped cheeks
Smoother skin texture of the cheeks
Reduced look of nasolabial folds or smile lines
Subtle lift of drooping jowls along the jawline
Naturally high cheekbones for young patients
An instant 'Cheek Lift' for sagging cheeks
A thin face with plumper cheeks with 'Apple cheek fillers'.
An angular look for a round or chubby face with mid cheek groove filler
Cheek Fillers Before and After
Cheek fillers can create a noticeable difference to the face and provide a refreshing and youthful look to men and women of any age. From restoring facial volume to a visible cheek lift to reducing smile lines and sagging jowls, cheek filler makes it possible.
1ml & 2ml Cheek Filler Before And After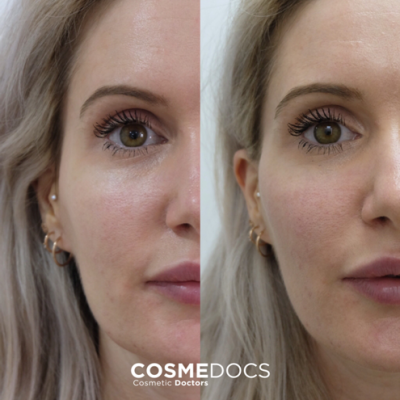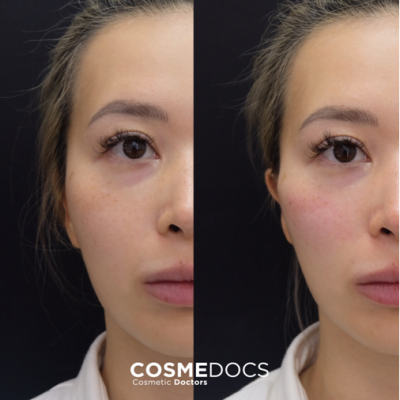 Cheek Fillers For Men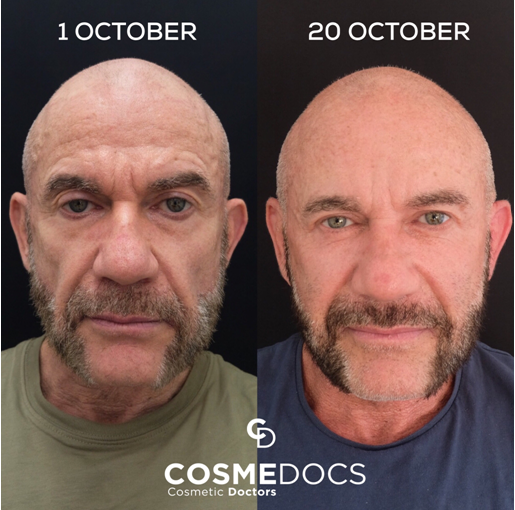 This patient came for cheek filler men and was treated with 4.2ml dermal filler to fill his hollow cheeks and restore lateral volume loss
Client Reviews

I've had three facial areas treated with Anti-Wrinkle Injection at CosmeDocs in recent years, and find the treatment swift, thorough and effective. Also, Dr Haq's pleasant and friendly manner makes the treatment as painless as possible!"
I had a facial aesthetic treatment with cosmodocs. I found the price very reasonable. Even better the results were excellent. I will definitely use this service again."
Price
(1.2 ml) Hyaluronic Acid £350
(2.4ml) Hyaluronic Acid£650
3ml£950
(3.6ml) Hyaluronic Acid £950
Cheek Filler Pricing
(1.2 ml) Hyaluronic Acid £350
(2.4ml) Hyaluronic Acid £650
(3.6ml) Hyaluronic Acidn£950
Result Notes
Cheek fillers guarantee immediate and visible results after the procedure. This non-invasive procedure does require maintenance every 6 months to 2 years, depending upon the type of filler used for the treatment.
Cheek Fillers Treatment
Book in for an honest and friendly consultation
Frequently Asked Questions
Who Is A Right Candidate For Cheek Fillers London?
According to Cosmexperts, anyone can choose cheek fillers London treatment if they are healthy and do not have any serious health condition history. Moreover, cheek enhancement is ideal for clients if they:
Notice loss of cheek volume due to ageing that can cause your cheeks to look sagging
Have lost weight, and their mid face areas have lost healthy volume and contours
Want to enhance and improve their facial profile by adding volume to their cheeks or get the illusion of high cheekbones
Have very visible nasolabial folds, also known as 'smile lines' that travel from corners of their nose to mouth. Cheek filler can subtly improve the look of their smile lines.
It is important to note that a client must have realistic expectations from the cheek augmentation procedure. At CosmeDocs, doctors discuss the treatment in detail with the patients and inform them of everything they need to know.
What Is Cheek Fillers Cost?
Cheek fillers price starts from £350 depending on the:
Patient's desired expectations
Type of cheek dermal fillers used
The amount of the facial filler used to add or restore volume.
Furthermore, it is important to note that the cheek fillers cost UK is usually confirmed after a complete consultation with a doctor. The doctor carries out a proper facial exam during the consultation and listens to the patient's goals.
If you are looking for cheek fillers treatment, we advise you to avoid cheap facial fillers and inexperienced injectors. The reason behind this is to help patients prevent cheek fillers gone wrong experience.
How Long Do Cheek Dermal Fillers Last?
Cheek fillers can last up to 18 months, depending on many factors such as:
Gender
UV exposure
Alcohol consumption
Physical activity
Smoking
The duration of cheek lift of cheek fillers results usually depends on:
The thickness of the filler used for the treatment
Treatment area
The amount of the product used by the doctor.
Moreover, we advise rescheduling a top up treatment after a few months to maintain your beautiful new results. Cheek augmentation may also be carried out in combination with non surgical face lift.
How To Avoid Too Much Cheek Filler?
Only an experienced injector with an aesthetic eye will ensure that the patient's face does not look dramatically different after the cheek fillers.
During the consultation, doctors at CosmeDocs carefully examine the patient's face as everyone is different. We treat every face according to its unique aesthetic needs for cheek fillers London
In order to avoid an 'overfilled look' or puffy face, the approach at CosmeDocs is 'Less Is More.
Therefore, we use your natural facial expressions and contours as our guide and microdroplet injection technique for cheek enhancement. We usually start with 1ml cheek filler for cheek augmentation and gradually increase the amount of filler if the need arises.
What Is Cheek Filler Aftercare?
After the cheek fillers treatments, it is common to have slight bruising and redness around the injection area. Moreover, slight swelling may also occur, which usually settles down using a cold compress.
After the cheek enhancement procedure, we advise patients to avoid rubbing or massaging the area vigorously. Also, it is best to avoid sleeping on your sides for at least the first two nights. Instead, patients can sleep flat on their back.
What To Expect After Cheek Fillers London Treatment?
The reason behind the popularity of this non surgical cheek enhancement is that the results are almost instantly visible. However, the cheek dermal fillers do take time to settle into your tissues.
Patients may notice a balanced profile following the cheek filler procedure as their cheeks are more defined and sculpted.
Please take a look at our cheek fillers before and after transformation and notice how natural and stunning the results are with cheek fillers London.
Do Cheek Fillers Hurt?
Another reason why cheek dermal fillers are so popular is that they cause little to no pain.
Unlike typical cheek implants, surgical facelifts or fat transfer, cheek fillers London does not involve cuts or incisions. Hence, the patient endures no unbearable pain.
Also, the doctors at CosmeDocs apply a numbing cream to each cheek before the cheek enhancement procedure. The aim is to ensure a smooth treatment experience for the patient
Is Cheek Filler Safe?
Absolutely! the midface dermal fillers such as cheek fillers are fairly safe, especially if they are done by a skilled injector.
In order for a cheek enhancement procedure to be safe and successful, a good doctor must always hold a detailed consultation with the patients to understand their goals.
Moreover, CosmeDocs clinics are safe, and the only the finest products and best practices are ensured for the patient's treatment.
What Is The Best Filler For Cheeks?
At CosmeDocs, we only offer Teosyal and FDA-approved Juvéderm® and Restylane® fillers that are safe and reversible. These fillers are known for their better quality and longevity.
Their higher dense texture provides a better lift. Moreover, their thickness provides more structure and support for cheekbones, thus, resulting in a visible definition to the cheeks while maintaining a soft, natural look.
At The Cosmetic Skin Clinic, we prefer a 'no work done look'. This means that patients get a refreshing yet natural look. Check out some of our naturally rejuvenated patients before and after cheek fillers.
What Are Cheek Fillers Side Effects?
Since cheek fillers is an injectable procedure, there are side effects linked to cheek augmentation procedure:
Bruising around the injection sites
Redness at the injection sites
Swelling around the cheeks, which usually goes away on its own in two to three days
Uneven or asymmetry, which means one side looks more plump or defined than the other
Infection can also occur; however, it is scarce.
Another rare side effect of the treatment is necrosis which can lead to scarring.
It is important to note that cheek enhancement must be done by a qualified doctor. Only someone who is well versed in facial anatomy and the latest injection techniques must be your priority
What If I Do Not Like My Cheek Filler Results
A detailed and complete discussion is carried out during the consultation with the patient to know their desired goals.
In case the patient is not happy with their cheek fillers London result, they can ask their doctor to dissolve them.
The doctor injects an enzyme solution that helps break down the filler without any harm. Thus, the cheeks come back to their original state.
What To Expect In A Cheek Augmentation Procedure?
This non-invasive procedure can help create a fresh and youthful facial profile without surgery and a long recovery period. Different types of dermal fillers can provide volume and a 'plump effect' to your face.
Moreover, you can also monitor the entire procedure and achieve satisfactory results as well. Hence, the procedure of cheek augmentation is controllable, and results are relatively quick to achieve.
During Procedure
Application of topical anaesthetic to minimize any discomfort

Your doctor will map out the cheek area and mark exact injection sites for proper filler placement.

Administering cheek fillers based upon your facial anatomy and desired outcomes
After Procedure
There may be slight swelling and redness around the injection sites, which can be alleviated using a cold compress.

It is crucial to avoid rubbing or massaging the injection areas.

You may also experience minimal bruising.

It is crucial to avoid sun exposure and heat for a few days after the cheek fillers procedure.
Recovery Notes
The swelling, redness and bruising usually go away in a week after the procedure.

As the downtime is relatively less than surgical cheek implants or fat grafting, you can expect to resume your routine activities with any significant delay.
At CosmeDocs We use quality fillers such as Restylane®, Juvederm® and Teosyal® for the cheek fillers procedure. Thus helping you to achieve that youthful triangle of beauty.
CosmeDocs has its clinics serving throughout the UK such as in London, Portsmouth, Derby and Nottingham. If you are noticing sagging, flat cheeks or desire higher cheekbones, drop by at one of our aesthetic clinics and discover how cheek fillers can transform you.