Anaesthetic

Local / Topical

Cheek Filler Results

Immediate, Lasting
12+ months

Procedure Time

20-30 mins

Risk & Complications

Bruising, Swelling,
Infection (rare)
What is Cheek Fillers?
Cheek fillers are a sure-fire way to safely and effectively enhance your facial profile. The primary goal of cheek augmentation is to:
Add volume
Give an aesthetic definition
It is an ideal preventive measure against anti-ageing because it gives you an instant cheek lift!
The best feature of these fillers is that you can achieve your desired outcomes without surgery, and the results are instant.
Your Cheeks Are a Crucial Facial Feature
Cheeks play a crucial role in your facial proportion as well as the overall appearance of your face. As you age, the cheeks lose:
Volume
Sag
Thus affecting your entire look.
There may be many of you who could never develop the right volume in your cheeks due to genetic reasons.
However, cheek fillers can effortlessly restore youthfulness and vibrancy to your face.
Many people desire those defined facial features, especially noticeable, high cheekbones.
Cheek Fillers Before and After
Cheek fillers can create a noticeable difference in your face by contouring your midface, decreasing deep nasolabial folds, thus rejuvenating your entire appearance. A subtle enhancement through FDA approved dermal fillers can refresh your gaunt and sunken face.
1ml & 2ml Cheek Filler Before And After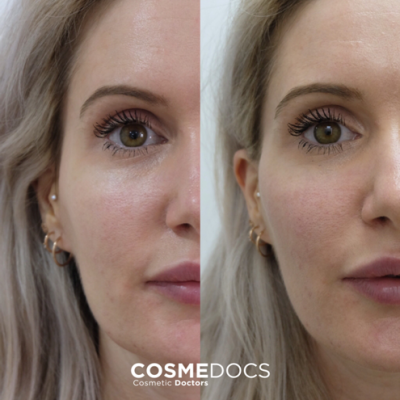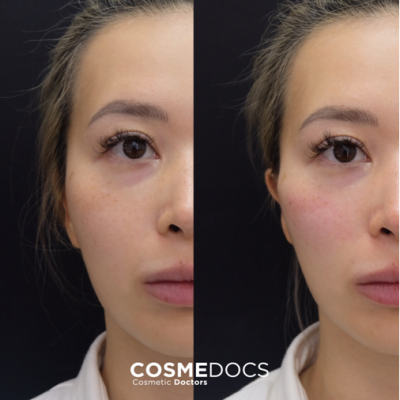 Cheek Fillers For Men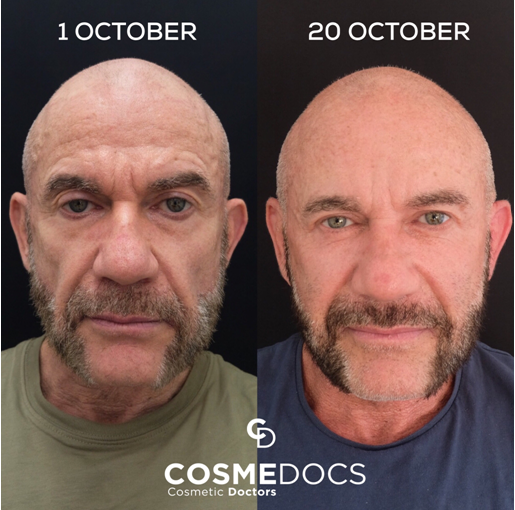 He had 4.2ml Dermal Filler – was used to treat his hollow cheeks and lateral volume loss
Client Reviews

I've had three facial areas treated with Anti-Wrinkle Injection at CosmeDocs in recent years, and find the treatment swift, thorough and effective. Also, Dr Haq's pleasant and friendly manner makes the treatment as painless as possible!"
I had a botox treatment with cosmodocs. I found the price very reasonable. Even better the results were excellent. I will definitely use this service again."
Price
(1.2 ml) Hyaluronic Acid £350
(2.4ml) Hyaluronic Acid£650
3ml£950
(3.6ml) Hyaluronic Acid £950
Cheek Filler Pricing
(1.2 ml) Hyaluronic Acid £350
(2.4ml) Hyaluronic Acid £650
(3.6ml) Hyaluronic Acidn£950
Result Notes
Cheek fillers guarantee immediate and visible results after the procedure. This non-invasive procedure does require maintenance every 6 months to 2 years, depending upon the type of filler used for the treatment.
Cheek Fillers Treatment
Book in for an honest and friendly consultation
Frequently Asked Questions
Advantages Of Cheek Fillers?
Facial fillers are one of the most popular and cost-effective procedures around the world. This non-surgical facial treatment is a safe and regulated cosmetic procedure.
More than 1 million people undergo this procedure worldwide. Cheek augmentation procedure can provide multiple benefits in one syringe, such as:
An Effective Anti-Aging Treatment
Cheek fillers can restore fullness and lost facial volume due to ageing. Facial fat and bone mass loss are a major concern associated with old age, and this can tell upon your face.
This quick cheek augmentation procedure injects fillers at the strategic areas and takes years off of your face. You can also opt for this treatment as a 'preventive measure' against ageing.
 Defines Your Facial Features
Defined and lifted cheekbones can look aesthetically very pleasing. Cheek lift and high cheekbones are mostly sought by people who do not have natural facial contours.
Simple cheek augmentation can emphasize your deflated cheeks and improve the bone structure around your mid-face area.
Decreases your pronounced nasolabial folds
Nasolabial folds are vertical lines located on either side of your mouth and become more noticeable when you smile. As you age, these folds tend to become deeper and may also sag.
Dermal fillers are injected in the upper cheek area to give your cheeks a lift, thus making your nasolabial folds less pronounced.
Instant and prominent results
Unlike any surgical procedure that gives results after a long recovery time, the cheek filler procedure shows immediate improvement to your facial contours. As soon as your doctor injects dermal fillers into the target area, it adds immediate volume and gives you a lifted appearance.
Little Downtime
While surgical cheek augmentation may require a long recovery period, however, with cheek fillers, you do not have to take off from your work or suspend your routine activities.
Any swelling and bruising subside in a few days, and you can enjoy your new look without waiting for too long.
Minimal Risks and Side Effects
Cheek fillers can cause slight swelling, redness and mild bruising around the injection sites. However, by applying an ice pack, these reactions can be significantly relieved.

Cheek augmentation through fillers can also cause facial asymmetry. One side of your face may appear slightly different from the other. However, a board-certificate aesthetic practitioner who is also well experienced can minimize this risk.
Cheek filler lasts longer.
The results from cheek filler can last from 6 to 12 months and are also sustainable. The longevity of your results also depends upon the type of dermal fillers used for the procedure. Hence, thicker gels will last longer than softer ones.
Slimming Effect Using Cheek Fillers
A round face with no prominent contours can achieve a more sculpted look through cheek fillers. The injections are strategically placed around the cheek area to make them more noticeable.
A cheek augmentation procedure can also be a great choice for you if you desire a sustainable 'contoured' effect' unlike the one achieved using facial slimming creams and contouring bronzers and highlighters.
Cheek Augmentation is Reversible
If you are not satisfied with your results and want to restore your previous look, then cheek fillers can be a suitable option for you. The undesired effects of the filler are dissolved using hyaluronidase by an expert and skilled doctor.
A Rejuvenated Look is a Confident Look
A subtle enhancement of your facial features rejuvenates your overall appearance. You appear more confident in your personal and professional sphere.
Cheek augmentation can help you to restore your youthful appearance and boost your self-esteem if you are witnessing signs of early ageing, sagging jowls or diminished cheekbones.
Triangle Of Beauty With Ageing?
The cheeks are define points in the face triangle.  With ageing signs of a lost volume bring the wrong side up, reflecting a negative, sad appearance due to:
Wide jawline
Sagging skin
Flat or sunken cheeks
Appearance of wrinkles and lines
Decreased elasticity on the cheek area
Smile lines pointing downwards
These are the signs of ageing that invert the triangle. The wider area remains at the lower area of face. As volume diminishes and skin sags, the facial outlook is also changed to a sad, stressed appearance.
How Long Do Cheek Dermal Fillers Last?
Cheek filler can last more than a year.  In many cases we note clients prefer maintenance touch up 9-12 months later.  The type of dermal filler used can also affect duration.  Thicker gels will last longer than softer ones.
Cheek augmentation may also be carried out in conjunction non surgical face lift.
Ways To Avoid Too Much Cheek Fillers?
The primary goal of cheek fillers is a skillful and subtle enhancement of your cheekbones and sagging jowls.
However, an over-zealous use of cheek fillers can make your face look disfigured or 'Pillow Face'. Overfilling the cheek area will also lead to an unnatural appearance and stretches your skin over time.
An experienced practitioner
You must seek the services of only a board-certified and skilled practitioner who fully understands your facial anatomy, thus helping you achieve your desired aesthetic outcomes.
How to avoid a Chipmunk Face?
Too much filler will not maximize your results, rather diminish them. A 'Puffer Face' can be avoided by choosing the right filler and experienced professional to carry out the procedure.
For Cheek Augmentation and Volumizing: Dermal fillers with denser consistencies are appropriate, which are long-lasting.
5 Key Concerns That Cheek Fillers Can Address?
1. Loss of Facial Volume Due to Ageing
Ageing can cause changes to the soft tissues along with bone resorption, which can cause your cheeks to look more hollow and flatter. Cheek fillers can significantly help to restore that diminishing volume and give your face that desired plumpness.
2. Naturally Deflated Cheekbones
Cheek fillers can help you attain prominent cheekbones and improve bone structure. Many people seek this cosmetic enhancement to give more dimensions to the face. Therefore, cheek filler is a great choice if your face does not have any natural contours because of a round face shape.
3. Sagging Jowls
As you age, your face starts to lose bone and fat from your mid-face. This crucial support can result in sagging of your cheeks as well as jowls.
Sagging jowls can also be a consequence of loss of elasticity and collagen in your skin. This can pull your jowls down even more due to gravity. Cheek fillers can help to fill the hollows of your face but also lift sagging.
4. Prominent Nasolabial Folds
The nasolabial folds or 'smile lines' occur vertically in the lower cheek area. These lines become deeper as time goes by, and it becomes challenging to treat them.
Hence, the best nasolabial treatment can be dermal fillers. Strategic placement of fillers on the cheek area can address your drooping cheeks and diminish your nasolabial folds.
5. Too Much Round Face And Chubby Look
While chubby cheeks and a round face can be associated with childhood, it is not a desirable feature as you become older and mature. Defined facial features can make you feel more youthful and confident.
Cheek fillers can address this concern by giving your chubby face a more slimming effect by strategic placement of fillers around the cheek area.
How Do You Know What Too Much Cheek Filler Is?
Knowing the limit for your face is pertinent. The cheek and cheekbone ratio needs to be in proportion to the length of the face as well as the jaw angles. Rest assured, our doctors will provide honest advice for your needs.
What Are Potential Risks With Cheek Implants?
Mild to moderate levels of discomfort can be an issue. In that case, ask your surgeon to prescribe an analgesic. Swelling and bruising could occur along with numbness, which typically fades within one to three months.
However, there is the risk that the implant may slightly move, which would require additional surgery to reaffix its position. If you do not get desired results, revision surgery or removal of the implant will be needed.
Will There Be Scarring?
Cheek fillers do not require an incision as a fine needle is used. Hence, there is no scarring.
Visit COSMEDOCS
Our team welcomes you to experience finest aesthetic services by leading practitioners in the industry. Cosmedocs has a team of aesthetic experts who carry out their procedures carefully with a skilled hand.
We use quality fillers such as Restylane®, Juvederm® and Teosyal® for the cheek fillers procedure. Thus helping you to achieve that youthful triangle of beauty.
Cosmedocs has an aesthetic eye and complete understanding of your facial anatomy, so you are guaranteed to leave our clinic with satisfying results and beautiful new you.
Leading Causes of Facial Volume Loss?
One of the most distinguishing features between a young face and an older one is the loss of facial volume. Many reasons can cause a once beautiful and youthful face to lose its freshness and vitality.
It is important to understand that a sunken and dull face can result from a combination of natural as well as your own detrimental habits. Some of the leading causes of facial volume loss are as follows:
Reduced collagen and fat production due to ageing
Diminishing bone mass and facial muscles with age
Crash dieting and extreme weight loss
Prolonged Sun Exposure
Hormonal changes in the body
Unhealthy lifestyle choices
Too much emotional and physical stress
Cheek Augmentation Procedure?
This non-invasive procedure can help create a fresh and youthful facial profile without surgery and a long recovery period. Different types of dermal fillers can provide volume and a 'plump effect' to your face.
You can also monitor the entire procedure and achieve satisfactory outcomes as well. Therefore, the procedure of cheek augmentation is controllable, and results are relatively quick to achieve.
During Procedure
Application of topical anaesthetic to minimize any discomfort

Your doctor will map out the cheek area and mark exact injection sites for proper filler placement.

Administering cheek fillers based upon your facial anatomy and desired outcomes
After Procedure
There may be slight swelling and redness around the injection sites, which can be alleviated using a cold compress.

It is crucial to avoid rubbing or massaging the injection areas.

You may also experience minimal bruising.

It is crucial to avoid sun exposure and heat for a few days after the cheek fillers procedure.
Recovery Notes
The swelling, redness and bruising usually go away in a week after the procedure.

As the downtime is relatively less than surgical cheek implants or fat grafting, you can expect to resume your routine activities with any significant delay.
At CosmeDocs We use quality fillers such as Restylane®, Juvederm® and Teosyal® for the cheek fillers procedure. Thus helping you to achieve that youthful triangle of beauty.