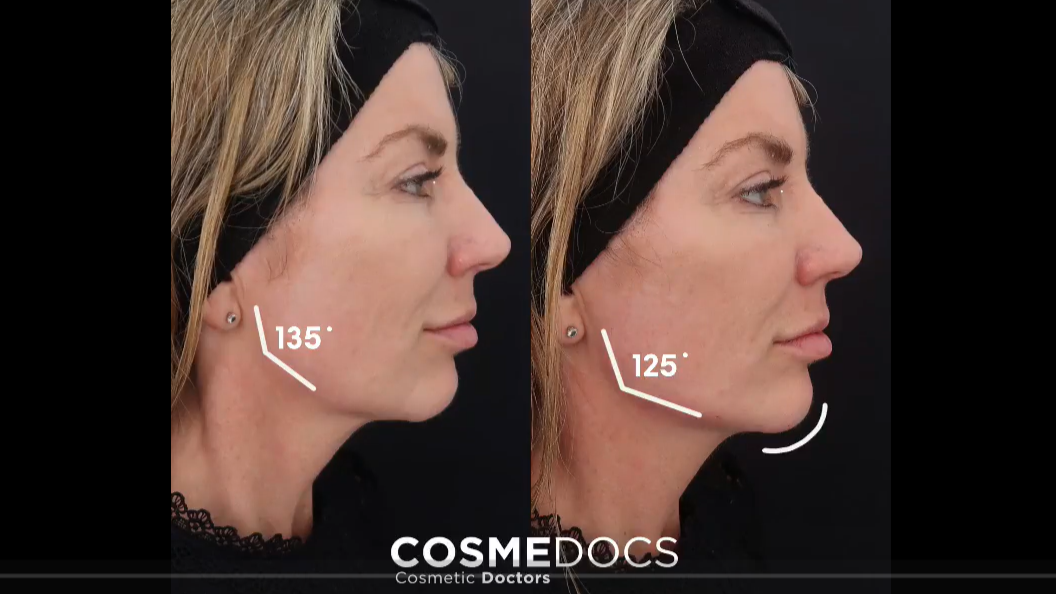 Chin Filler Before and After — From Chinless to Chin Goals!
It is true that the eyes are windows to the soul, the nose can make or break any look and the lips can make one look sensual and desirable. However, it is your chin that sways your overall facial shape and balance! Skeptic? Check out the chin filler before and after transformations to become a believer.
Quiz Time!

Which facial feature is most commonly ignored when you see yourself in the mirror?

Clue: It is most commonly found on most model-esque faces!
Ready to find out?

It is your Chin!
For those of you who are still not sure about the crucial role that a chin plays in their looks, just take a look at your favourite A-list celebs' facial profiles.
Can you spot 1 most common aesthetic element that makes them look instantly attractive?
With that being said, a chin plays a key role in balancing and defining the face in both men and women. Over the years many celebs have undergone painful surgical chin augmentation to achieve the 'Golden Ratio of Beauty'. 
And guess what? Your chin completes the puzzle!
How Chins Can Make a Man Attractive?
Ever wondered why ladies went gaga over Robert Pattinson after the 'The Twilight Saga'?
Well, you can name anything you want to, but we blame his 'almost perfect facial profile'.
Thanks to his prominent chin, Pattinson scored 92.15 per cent 'accurate' to the Golden Ratio of Attraction!
Check out more celebrity chin filler before and after transformations later in this article.
Going Under A Knife — Genioplasty 
Also known as Mentoplasty, a surgical chin enhancement and augmentation is meant to reshape your chin.
This invasive approach may either involve moving the bone from the jaw forward or placing custom made silicone implants for better chin projection.
Although the entire idea of this operation is to improve aesthetic angles of your face and boost your self-confidence, it does come with a price…a big one!
Risks Of Chin Surgery:
Possible shifting of chin implant from its original position

An unnatural chin especially in females who mostly prefer a more feminine facial shape

Possibility of a poor cosmetic outcome after a mentoplasty, leading to a revision surgery 

Unbearable pain for some patients! 

A relatively expensive option for many clients
Having second thoughts already?
Dermal Fillers to the Rescue!
Before you completely shut down on the idea of self enhancement and boosting your self confidence, we have something worthy to share! Dermal fillers made of hyaluronic acid gel can help you realise your cosmetic goals in under 20 minutes! 
Let us break down the non surgical chin fillers for you.
What Is a Chin Filler or Liquid Mentoplasty?
We thought you would never ask! Liquid mentoplasty or Chin filler is a non surgical chin enhancement procedure that involves reshaping and projecting a weak, short or retracted chin.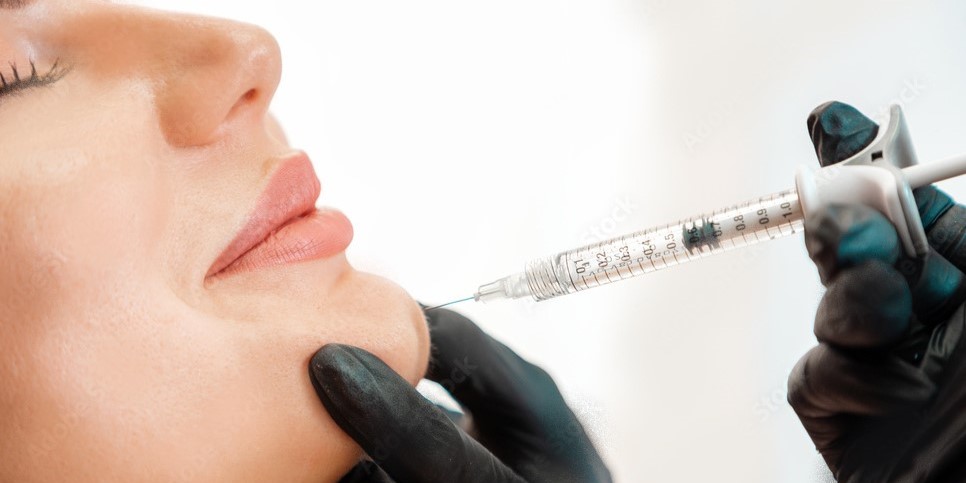 Dermal fillers containing hyaluronic acid are directly injected into your chin area to volumise it and project the chin forward. 
The results?
A more chiselled lower face, balanced facial proportions from all angles and last but not the least, amazing confidence in your personality!
Chin Filler Before and After Transformations
Take a look at these sensational Chin filler before and after tweakments of our actual clients!
Spoiler Alert: No knife and scalpels involved!
What Can a Chin Filler Do for You?
Many patients flock in at CosmeDocs to plump up their lips with lip fillers or request for improving their noses with non surgical nose filler. Whereas very few of them show any interest in enhancing their chin which is a key feature of an attractive face!
The
'Anchor Of The Face'
— Chin!
Often goes unappreciated, a chin when enhanced with chin fillers can reap following benefits:
Weak Chins Get Better Projection
It is okay to born without a 'chin' or lose it with the onset of ageing. What is not okay is giving up on yourself and your self-confidence. With properly placed chin fillers, doctors can amplify a retracted chin or lengthen a short looking chin to create a more angular face.
Better projection, better facial profile, boosted confidence!
Gives A More Slimmer Face Silhouette
Who does not like to look slim and fit? We all do! Nevertheless, it is very hard to guarantee a defined and sculpted jawline no matter how hard you try.
With chin and jaw filler, an aesthetic doctor can fill in the bone loss in the lower face to restore definition and natural contours of your face just on a chair!
Yes! It is that easy.
Anyone who is not happy with his or her cleft chin can enjoy an attractive and sculpted looking chin with cleft chin filler. 
Defined & Pronounced Jawline
No matter what the reason behind that soft, weak looking jawline is, an expertly injected chin filler can help you look more chiselled in under 20 minutes! We are not kidding.
Many patients at CosmeDocs request for a slimmer, sharper and defined looking profile without having the need to hitting the gym, going on a crash diet or putting on makeup!
Natural Looking Results, Exclusively Tailored
Unlike a surgical chin augmentation using chin implants, a non surgical chin enhancement is remarkably natural looking and is totally customizable! Sounding too good to be true?
Well, it is actually the case. Since every face shape is different, hence, it is not a good idea to adopt a 'cookie cutter technique'. With chin fillers, the aesthetic practitioner can give you a chin that is best suited to your face shape and personality.
Lunchbreak Chin Enhancement For Everyone
Whether you are a female patient desiring a more feminine lower facial profile or a male candidate who wishes a masculine look, chin fillers can surely help.
Even if you are unhappy with the unwanted effects of an ageing face, chin filler London is an ideal solution for visible jowls and undefined lower face. (An anti ageing tip for you!)
Balanced Facial Profile Sums Up To Sexy!
Don't we all wish for talking eyes, good looking nose, defined jawline and a charming smile? All of this truly incomplete without a nicely projected chin that also helps to make your nose appear smaller! Say what?
That's right. By lengthening and defining a chin, celebrities have successfully achieved a more harmonious facial profile. Take a look!
Jaw Dropping Celebrity Chin Filler Before and After
Bella Hadid's slightly broad nose appears somewhat smaller thanks to a stronger chin!
Chin Filler & CosmExpert In Action!
The success of any cosmetic enhancement procedure lies in the hands and 'eyes' of an expert aesthetic doctor. Only after a detailed consultation and deep facial analysis, begins the 'chin tweakment'!
After cleansing and numbing the area that needs to be treated, your aesthetic doctor injects the chin filler directly into the centre of your chin. The filler is masterfully massaged and desirably moulded for more forward projection.
Moreover, the sides of the chin are often filled so that your chin looks well blended with the rest of the jawline. 
Check out the instant round face chin filler before and after results of this lovely client at CosmeDocs. She looks obsessed! (We are too)
How Long Do Chin Fillers Last?
Very long! However, it all depends on the amount of the gel filler used for your non surgical chin enhancement as well as the type of the product. 
Everyone is different and hence, it is up to your aesthetic practitioner to decide what type of dermal filler to use as well as its amount. 
Generally, the longevity of the filler chin is anywhere 1 year to 2 years, and you can stretch the life of your results by:
Keeping yourself hydrated
Avoiding sun exposure and wearing a broad-based UV protection when hitting outdoors
And lastly, by getting a chin filler top up before you completely loose the effect!
Safety Profile of Chin Fillers
Unsure if non surgical chin augmentation is safe and effective enough for you? According to studies conducted on the efficacy and safety of the Dermal fillers for chin retrusion, the treatment showed visible results that were also safe and well tolerated.
Moreover, the results had also lasted for about a year, depending on the amount and type of filler injected.
Is There Any Chin Filler Aftercare?
The term 'non surgical chin augmentation' says it all! Unlike a surgical chin implant procedure that needs you to go through a long downtime and necessary aftercare, chin filler does not need any of that. Sweet right?
Ultimate Jawline + Chin Goals
One of the most requested treatments at CosmeDocs has to be '3D Jawline'.
This popular tweakment involves sculpting, reshaping and defining jawline with jawline fillers coupled with chin filler.
Take a look at this chin filler before and after transformation below of one of our happiest clients!
Visible differences can be seen after chin and jaw filler as though she has been working out, no?
The Right Place for Knife-less Chin Enhancement?
The role of a defined, chiselled chin is simply undeniable. Your chin indeed, plays an integral part in harmonising your facial features and making you look attractive. 
If you are looking for a painless and visible chin rejuvenation, then non-surgical chin enhancement or 'liquid mentoplasty' can be a great option for you. 
At CosmeDocs UK, aesthetic experts harness their vast knowledge and experience in tailored cosmetic rejuvenation to help you enjoy desirable results. Our stellar Chin filler before and after transformations can vouch for that!
With advanced skills and latest techniques to help the patients achieve a pronounced chin that harmonises their facial features and also look their best! With such a convenient approach using chin filler, who needs to go under a knife?
Do you have a chin…If not, then it's time to get one!