Non Surgical Face Lift Before And After — Defy Ageing At Any Age
So how do you plan to look as you age in next 10 or 15 years from now? Old and tired? Or youthful and your best? With our lives and routines overwhelmed by personal and professional commitments, a non-surgical facial and body rejuvenation seems to be the only way out. How? Keep on reading and do not forget to check out non surgical face lift before and after photos
What Is A Non Surgical Face Lift?
A total sensation on Instagram which involves no incisions, cuts and stitches and gives instant gratification. Visible results right on the chair!
A non-surgical face lift is either a single or a combination of non-invasive anti-ageing treatments that are meant to correct, delay and even prevent the onset of ageing signs.
These skin ageing signs can range from:
Loss of skin's firmness and resilience

Drooping eyebrows, giving you a tired grumpy look

Neck sagging with wrinkles due to ageing and usage of digital gadgets 

Loss of facial definition especially along jawline and chin

Facial wrinkles and deep creases start to show up

Poor skin tone and texture 

Skin laxity as well as 'jowling' 

Your face has started to lose a youthful fullness and is looking hollow
Now, anyone can witness these indications at any stage of their lives such as very young patients in their late 20's, who have booked a 'liquid facelift' at CosmeDocs! 
But why? For those model-esque cheekbones to a gym-free chiselled jawline of course!
Surgical Facelift Different Vs. Non-Surgical Facelift
A facelift surgery, technically known as rhytidectomy, is an intense and invasive procedure for addressing significant cosmetic concerns. The idea is to reduce the look of an ageing face and neck by surgically removing excess skin and fat for an ultimate facial rejuvenation. (risks and heavy expenses involved)
| | |
| --- | --- |
| With Knife | Without Knife |
| | |
| Involves pain & discomfort | Involves little to no pain or discomfort |
| Best suited for age 40s & above | Suitable for age 20s & above |
| | Generally cost you a fraction of surgical facelift |
| Requires significant recovery time | No need of any major downtime |
7 Interesting Benefits Of A Non-Surgical Face Lift
Well, we are certainly not expecting any miracles or magic here and the needles are surely not the Fairy Godmother's wands! However, a liquid facelift with dermal fillers or a PDO thread lift surely leaves you looking instantly and visibly rejuvenated!
Moreover, there are more than one options available for anyone who is looking for a targeted, powerful but budget-friendly anti-ageing solution.
From the tiny Botox needle prick to the needle-less skin tightening, a non-surgical facelift has got your back! 
Noticeable & Real-time Results
If you are impatient like most of our patients, who simply cannot wait to see immediate results of the non surgical face lift, then this one's for you! Since there is no general anaesthesia, patients can monitor the entire rejuvenation process themselves.
Of course, witness visible lift and enhancement in real time and savour the joy and confidence at the same time!
Incredibly Natural Looking You!
The old school approach of a surgical facelift is not only insanely expensive but also delivers drastic transformations to your face. But recently, the statistics show a downward trend in its popularity thanks to non-surgical face lift.
Statista reports that just 901 face and neck surgical lifts were carried out in the UK in 2021, a markedly significant decline from the year 2020, when 1,529 face and neck lift procedures were performed.
However, if you go over the non surgical face lift before and after photos, notice how subtly the patients have been refreshed.
If you are not ready for a surgery or willing to embrace dramatic changes to your face, a needle treatment may be just what awaits you!
Ideal In Your 20's, 30's & 40's
The ageing process starts as soon as you hit your 20's and never stops throughout your life. Starting from the slowed down collagen production to gradual bone and facial fat pad loss.
Take a look at CosmeDocs patients' non surgical face lift before and after photos. You can notice how different patients from different age groups are enjoying satisfying and refreshing outcomes instantly!
Depending on how minor or major your cosmetic concerns are, the doctor can design the treatment accordingly. Hence, there is something for everyone!
Totally Tailored To Your Needs
No 'cookie-cutting approach' in a non-surgical face lift. A cosmetic doctor targets the specific areas of your face that need some 'tweakment' and 'lifting' such as Botox Brow Lift, cheek lift, liquid chin enhancement and of course, Baby Botox for softening fine creases.
The entire goal of this knifeless rejuvenation is to help you look better and younger but still help you look like yourself in the mirror and to others.

Couple It With Clinical Skin Perfection
When we say restoring a youthful and refreshing personality, we also mean 'clinical skin perfection'!
While dermal fillers injected into your skin can improve its overall quality, however, years of sun exposure and pigmentation needs solution like a chemical peel.
Just make sure to book a skin peel not around any big event coming up!
No need to take a break from life whether you heal or not! Many procedures in a non surgical face lift are not called 'lunchtime lifts' for nothing.
Most common side effects may be slight swelling, redness or bruising at the injection sites. That's pretty much it!
With some icing on the treated areas, and following aftercare advice, you are good to go.
 Just A Few Touch Ups Needed
With a non-invasive facial rejuvenation treatment, you may not be able to expect permanent results. However, they can be quite long lasting depending on the area of treatment, the type and intensity of the treatment.
For instance, cheek fillers can last you for up to 18 months depending on the amount and type of filler used. Similarly, a thread face lift results can last for up to 24 months and you may only require a few maintenance visits to your cosmetic doctor.
Hence, no scalpels, stitches, and blood just, ageing beautifully…gradually!
5 Most Favourite Knifeless Rejuvenation Treatments Today!
Profhilo
An injectable hyaluronic acid rich skin renewal treatment is what we call Profhilo (Pro-fee-lo).
This fairly new and trending procedure is making rounds for boosting skin proteins such as collagen and elastin.
Moreover, profhilo enhances the hydration levels of the 3 skin layers, hence, giving better results than topical skincare products.
P.S. the results last for up to a year too!
So, what does profhilo really does for your skin other than moisturising it?
Addresses poor skin quality such as crepiness, fine lines and dry patches

Plumps up your lifeless skin, giving smoother skin texture and bounce

From skin laxity to a more firmer and taut looking skin after just 1 session
8-Point Face Lift 
Also popularly known as 'Liquid Facelift', the 8-point face lift involves combining multiple injections of Dermal Fillers to achieve a 'sculpted, reshaped and lifting effect'. Facial aesthetics experts non-surgically rejuvenate 8 key areas of your face such as:
Cheeks

Midface

Under Eyes

Nasolabial folds

Mouth Corners

Jowls 

Jawline

Chin
With a combination of precision, experience and well-placed hyaluronic acid based dermal fillers, the overall facial profile looks visually appealing and youthful. The 8-point face lift is a winner for doctors and patients alike!
In addition to adding structure to your face and restoring vitality to it, dermal fillers are also widely used for softening deep etched furrowing creases. Another most obvious ageing sign that is totally unwanted.
Botox Injections
One of the best known anti-ageing treatments today is Botox. No doubt about that! This anti-wrinkle injection has become synonymous with beauty and rejuvenation with time and we do not see it going away anytime soon!
By relaxing the target muscles underneath your skin, the dynamic wrinkles such as crow's feet and frown lines are reduced noticeably!
Check out the non surgical face lift before and after of our handsome patient in his 50's. Cosmexperts have given him a well-rested and less grumpy look with a Botox makeover!
Minimal discomfort, no downtime and instant results. What more could one ask for?
PDO Thread Facelift
When it comes to skin tightening and skin lifting without a knife, PDO thread face lift tops the list and we do not wonder why! One of our loveliest patients in her 60's enjoys a subtle yet visible lift especially around her eyes and sad droopy mouth corners.
Real PDO Thread Face Lift Results
Non Surgical Face Lift Before And After
We are sharing with you some of the stunning non surgical face lifting transformations at CosmeDocs that are not altered or retouched in any way. 
Since, everyone is unique with their own concerns and goals and also ages differently, hence, the rejuvenation results may also vary accordingly. 
For Your 20's
So your skin looks bouncy, glowy and healthy all the time because the collagen, elastin and hyaluronic acid production is happening round the clock. Keeping your skin in its prime condition.
But wait! Something is not right. By the mid-20's collagen making is slowed down, UV rays hurt your skin and loss of skin firmness starts to happen. 
This non surgical face lift before and after of a 20's patient shows how a 'mini liquid face lift' has turned around her entire look in under 60 minutes! What do you think?
For Your 30's
More creases and deeper wrinkles start to crop up and skin dullness and poor skin texture takes over. Of course, the declining collagen production speeds up the ageing process. Moreover, the youthful facial fat pads begin to diminish and a once fuller looking face now looks a bit leaner or should we say…hollower.
Thirties is surely not the right time to show off ageing signs and this non surgical face lift before and after is good enough to support the argument.
Here the patient opted for Profhilo for an enviably healthy, firmer looking skin together with non-surgical jawline filler and chin filler. Goals!
For Your 40's
As your skin's collagen, elastin and hyaluronic acid continues to deplete, the ageing process continues to show off its signs. Wrinkles become deeper, more obvious sun damage, overall rough skin texture due to slow skin cells turnover rate.
Moreover, losing facial fat may also lead to drooping and sagging especially around the eyes and cheeks and eyebrows too.
For Your 50's
The age in which your hormones go haywire with the oestrogen levels dropping and androgen levels spiking. Hence, leading to thinner, less elastic skin with hyaluronic acid levels already diminishing rapidly. Moreover, facial volume loss becomes quite evident by now.
Loving the results? We surely do. This is one of the non surgical before and after photos of our patients struggling with a tired, chubbier look. Using dermal fillers at the right places on her face, she now enjoys the gift of a refreshed and youthful looking personality.
For Your 60's
Natural ageing is not the only factor to blame for your loose, sagging skin and hollowing face. Stress, UV rays exposure, gravity, and of course years of facial expressions take a serious toll on your skin.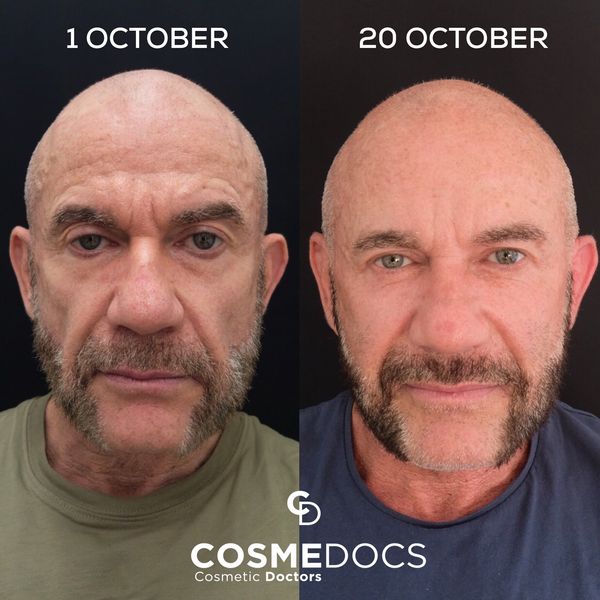 This pleasing non surgical before and after of our handsome male patient is nothing short of a treat. He had a liquid face lift coupled with an anti wrinkle makeover with Botox injections. Does he really look like a fellow in his 60's? 
We totally disagree!
The Safety Profile Of A Non Surgical Face Lift
One of the most asked questions asked at CosmeDocs and our experts have the same thing to say — it depends who you choose to be your doctor.
Other than that, a non-invasive facial rejuvenation is remarkably safe and incredibly subtle…a huge sigh of relief!
A surgery is likely to carry many known and unknown complications such as:
The likelihood of the removal of too much skin.

Yikes!

It may end up looking too obvious and too drastic

A great amount of aftercare and lengthy downtime needed

It hurts your pocket too…ouch!
Moreover, The most likely facelift complication demanding a surgical intervention is a hematoma (a pool of blood outside of the blood vessels).
According to the recent investigations, an emerging hematoma after a facelift occurs in 1.8% of studies conducted between 2001 and 2013
But, with a non-surgical facelift, that is certainly not the case provided you do your due diligence in going to the right place and person.
Check out the stunning non surgical face lift before and after instant transformations above, in which the patients look like themselves but better!
The most common after effects of a non-surgical face lift are slight bruising and swelling at the injection sites and there may be some redness as well. However, such side effects go away on their own in a few days with some ice compresses and aftercare. Winner…
When A Knifeless Enhancement Does Not Work
While the ultimate aim of a face lift regardless of its approach is skin tightening, warding off ageing signs and an overall youthful look, it is good to consider the limitations as well.
No dramatic results

May not help with advanced ageing concerns

Need to reschedule treatments as it is not permanent
Therefore, if you or anyone you know is struggling with some serious skin sagging especially due to natural ageing, a surgical facelift may be the only option left to consider.
The Wrap Up!
From spotting the finest wrinkle under your eyes to struggling with deep wrinkles and hollowness, ageing has a way to manifest itself to the eyes. Sad.
But a non-invasive facial makeover is just what you need to enjoy:
A fuller, yet contoured facial profile

Reduced look of ageing lines and creases

A healthy and plump looking skin 

Self-confidence boost that has absolutely no match 
It is amazing how a needle, if used right by the right person for the job can do so much to your personality. No?
Not only can you avoid scalpels and incisions with Botox lift, Liquid facelift, PDO Thread face lift or RF Microneedling, but you can also get a clinical skin makeover. The result, we can assure you, will be heavenly!
Going Knifeless At CosmeDocs
It may not be possible to turn back the ageing clock or even stop it, but Cosmexperts at CosmeDocs know how to age smartly! Thanks to the ceaseless breakthroughs in Aesthetic
Medicine, now it is possible to look great at any age without any surgery.
From injectable skin care such as Profhilo to knifeless brow lift with Botox to Collagen boosting Morpheus8, a non-surgical facelift was never so versatile. 
Our non surgical face lift before and after photos show how easy it is to fight back the unwanted signs of maturity and enjoy an effortlessly refreshed and revived look.
Book an appointment with us if you wish to take years off your face without the ordeal of a surgery or if you plan to put off the ageing process for a while and want to Prejuvenate!
Do not be afraid of ageing, be afraid of ageing unnecessarily!